Four years ago, when our daughter was 13 months old and not walking yet, we went to the Derryvilla Blueberry Farm** in County Offaly to pick berries. I still remember her crawling on the soft, boggy ground amongst the bushes, stopping now and then to pull a fat, sweet berry from the branches and pop it into her mouth. This time we had our son, who at two years old was a good age to enjoy picking the berries himself, so ripe they practically tumbled off the bushes and into our baskets. When we paid for our haul after an hour in the fields, the owner, Nuala, scooped up a bag full of berries from a nearby crate and gave them to the kids to eat in the car, free of charge. For the first 30 minutes of the drive home, all we could hear from the back seat was the sound of their little hands rustling in the paper bags as they snacked on the berries as if they were a bag of pick 'n' mix candy.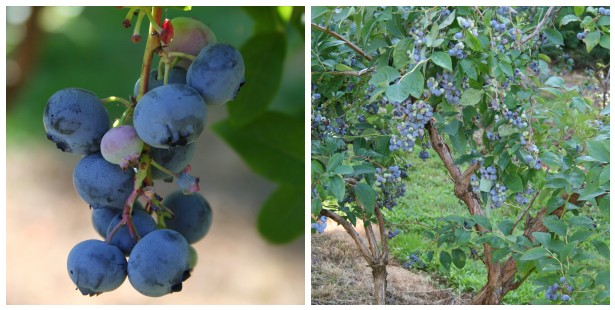 When my husband was a boy growing up in Michigan, one summer he and his family picked 80 lb of blueberries. In comparison, the 9 lb we picked last weekend seems meager, but it was enough to make a dinner of salmon with a blueberry pan sauce, a batch of blueberry crumb bars and these blueberries in gin syrup.* I froze the rest to use in my kids' favorite breakfast once the weather turns cold, blueberry and banana porridge. I'm already looking forward to remembering the sunny, hot summer day we spent picking berries every time I add them to my children's oatmeal this winter.
*If you're looking for more blueberry recipes, try this lemon blueberry buckle or peach and blueberry sour cream cobbler.
*Derryvilla Blueberry Farm is located roughly between Newbridge in County Kildare and Portlaoise in County Laois, not too far off the M7 motorway. Ring 057 864 2882 or 087 246 6643 for opening times and directions.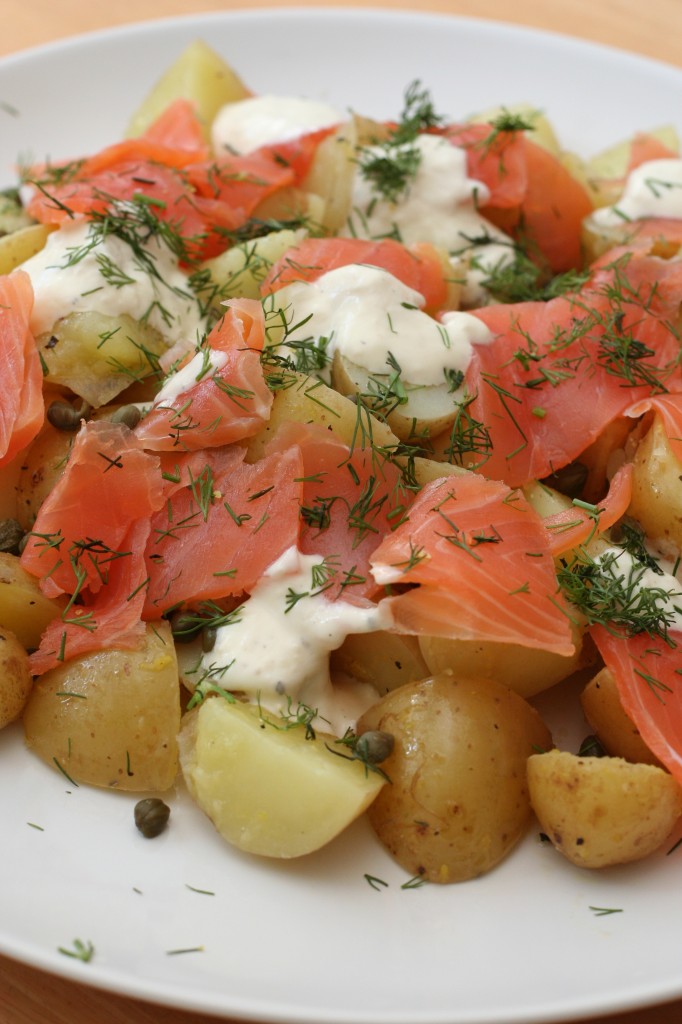 Smoked Salmon and Potato Salad with Horseradish Crème Fraîche
adapted from Jamie at Home by Jamie Oliver
Serves 4 as a light dinner or lunch
As often as not, I lazily skip the lemon, vinegar and olive oil dressing and just mix the horseradish crème fraîche into the potatoes instead of dolloping it over the salad. In that case, add the lemon zest to the crème fraîche and sprinkle the capers over the salad instead.
1 1/4 lb (570 g) new potatoes, washed
sea salt and freshly ground black pepper
zest and juice of 1 large lemon
splash of red wine vinegar
extra virgin olive oil
2 tablespoons capers, drained
14 oz (400 g) smoked salmon, roughly chopped
a small bunch of fresh dill or fennel tops, roughly chopped, or 1 tablespoon dried dill
2 or 3 tablespoons jarred horseradish sauce, or to taste
1/2 cup (120 ml) crème fraîche
Cut the potatoes into halves or quarters, depending on their size (you want them to be in bite-sized pieces). Tip into a pot of boiling salted water and boil for 10 to 15 minutes, until the potatoes are just cooked. Drain in a colander and cover with a tea towel to dry them out a bit while you make the dressing.
Put the lemon zest and half the lemon juice into a bowl and add the vinegar. Pour in three times as much olive oil as lemon juice and add the capers. Season the dressing with salt and pepper and whisk to combine. Transfer the potatoes to a large bowl and drizzle the dressing over. Toss gently until the potatoes are all well coated. Add in the smoked salmon and most of the dill and toss again. Transfer the potatoes and salmon to a serving bowl or platter or individual plates.
Mix the horseradish sauce into the crème fraîche with the remaining lemon juice and some salt and pepper. Dollop the crème fraîche over the salad and sprinkle over the rest of the dill or fennel.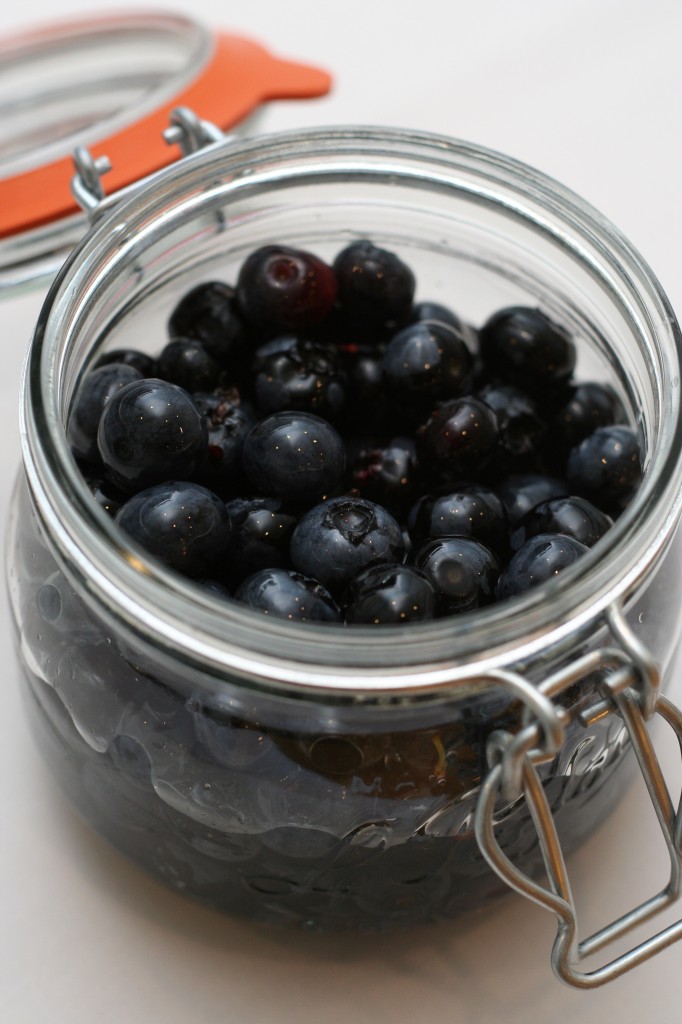 Blueberries in Gin Syrup
adapted from Gourmet, August 2008
Serves 6
This recipe is open to adaptation. The original version conjures up a forest by adding a rosemary sprig and crushed juniper berries to infuse the syrup. I didn't care for that so I've left it out here to make a plainer syrup. However, you could also try infusing the syrup with a cinnamon stick or a strip of lemon peel, and you could leave out the gin entirely too. These will keep for 1 or 2 days in the fridge.
1 cup (240 ml) water
3/4 cup (150 g) sugar
1 1/2 lb/2 pints (680 g) blueberries
1/4 cup (60 ml) dry gin
Boil the water and sugar in a small saucepan, stirring until the sugar has dissolved, until the syrup has reduced to about 3/4 cup (180 ml), which should take 10 to 12 minutes. Put the blueberries in a heatproof bowl and strain the syrup through a sieve over the berries. Stir in the gin. Allow the berries to macerate in the syrup for about 30 minutes, until the berries are completely cooled. Eat them on their own in a bowl, or spooned over vanilla ice cream, not forgetting to drizzle over some of the syrup too.

Email this post

Print this post