When I was back in the States last month, my friends were great sports and fired up the grill to make bratwurst and beer can chicken after I bemoaned the lack of barbecue-worthy weather in Ireland. Back home in Ireland, though, I can still try to recreate those flavors and memories of hot Midwestern summer evenings with these pulled beef sandwiches. Made in the slow cooker, there's no charcoal to light and no need to keep one wary eye on the inevitably approaching rain, and if you need to feed a small army at some point this summer, then this is the recipe for you — it can be doubled, tripled or even quadrupled. And even though my husband makes a mean barbecue sauce, this is one of the rare times I'll give in to convenience and opt for something store-bought instead of homemade, making this one of the easiest recipes in my summertime repertoire.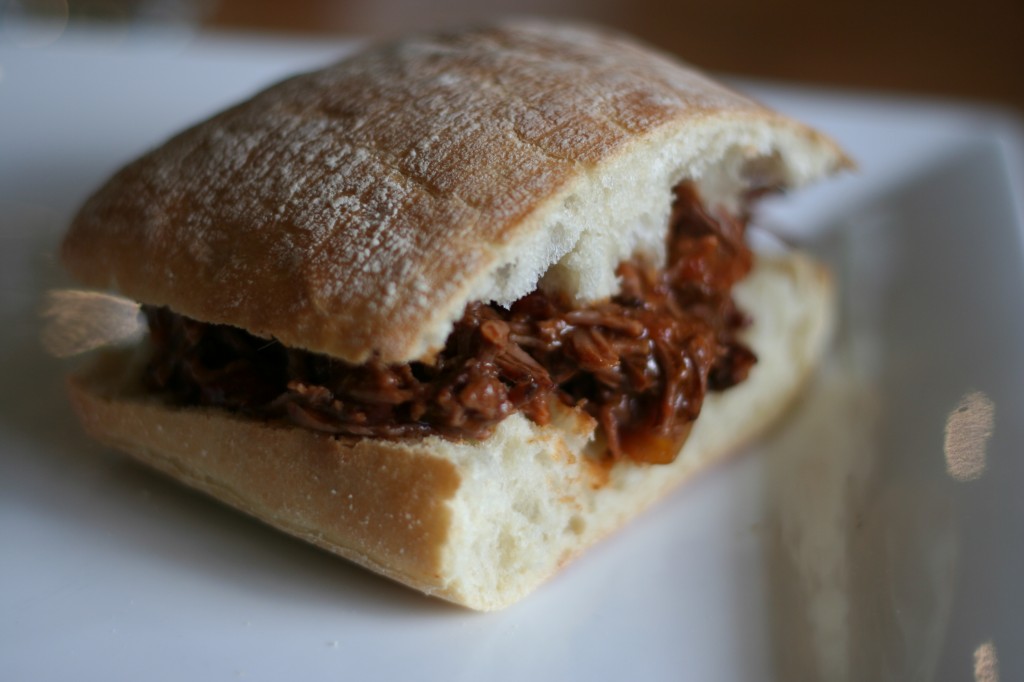 Slow Cooker Braised BBQ Beef
Serves 10 to 12
This recipe also works well with an equal weight of boneless, skinless chicken breasts to make a versatile shredded BBQ chicken.
1 tablespoon olive oil
2 onions, roughly chopped
3 cloves garlic, roughly chopped
1 x 3 lb (1.4 kg) pot roast or chuck roast, rinsed and dried
1 x 28 oz (or 2 x 14 oz/400 g) can of whole plum tomatoes
18 oz (500 ml) of your favorite barbecue sauce, either store-bought or homemade
salt and freshly ground black pepper
soft sandwich rolls or hamburger buns
Heat the olive oil in a frying pan on a medium-low heat. Add the onions and cook until translucent, about 10 minutes. Add the garlic and cook for 1 minute more. Transfer the onions and garlic to the slow cooker. Add the tomatoes, crushing them with the back of a wooden spoon. Add the barbecue sauce and stir everything to combine. Add in the pot roast, cover and cook on low for 8 hours, or until the meat is tender and shreds apart easily. When the meat is cooked through, remove it from the slow cooker and shred with a fork. Set aside.
If you want the sauce to be a bit thicker, transfer it to a pot on the stove on a medium-high heat, uncovered. Reduce the liquid until it's the desired thickness, making sure to stir the sauce often to prevent it from burning.
Return the meat to the sauce in the slow cooker or in the pot to warm through again. Add salt and pepper to taste. Serve on buns.
***
Roseanne Cash's Potato Salad
adapted from Bon Appétit, June 2004
Serves 8
For something a little different, Cash sometimes adds some chopped fresh cilantro and 2 teaspoons curry powder. This can be made up to 1 day ahead and tastes best if it's allowed to stand at room temperature for 1 hour before serving.
3 lb (1.4 kg) baby potatoes (red-skinned are good), unpeeled
8 to 10 dill pickle spears, coarsely chopped
3 celery stalks, chopped
1 red onion, chopped
5 hard-boiled eggs, peeled and chopped
3/4 cup (180 ml) mayonnaise
2 tablespoons Dijon mustard
salt and freshly ground black pepper
Scrub the potatoes, then cut into quarters or halves, depending on their size (you want them to be in bite-sized pieces). Cook them in a large pot of boiling salted water until they're tender but still holding their shape. Drain and allow to cool slightly. Stir in the remaining ingredients and season to taste with salt and pepper.

Email this post

Print this post