After over a year apart, Kristin and I were finally able to cook together last week during her trip back to the Midwest. In anticipation of her visit, and remembering her recent laments about the lack of weather worthy of grilling in Ireland, I cooked a few days of grill-friendly meals: fajitas (excellent excuse for homemade margaritas), kofta kabobs, and this summer's favorite discovery, beer can chicken. I've read about the beer can technique for years but couldn't bring myself to literally stuff a bird with a beverage until recently. My distrust was completely unfounded because this recipe rocks. Plus, it makes for a funny blog picture.
For a delicious and easy side dish, I roasted sweet potatoes and served them with make-it-in-a-minute maple jalapeno sour cream. I like to roast my potatoes right alongside the chicken to avoid heating up the kitchen. To roast sweet potatoes in a charcoal grill, simply wrap the sweet potatoes in foil (heavy duty recommended) and place them on or near the hot coals. Roast them until tender, usually 60 to 75 minutes, depending on the size of the sweet potatoes, their proximity to the coals, and the heat of the fire.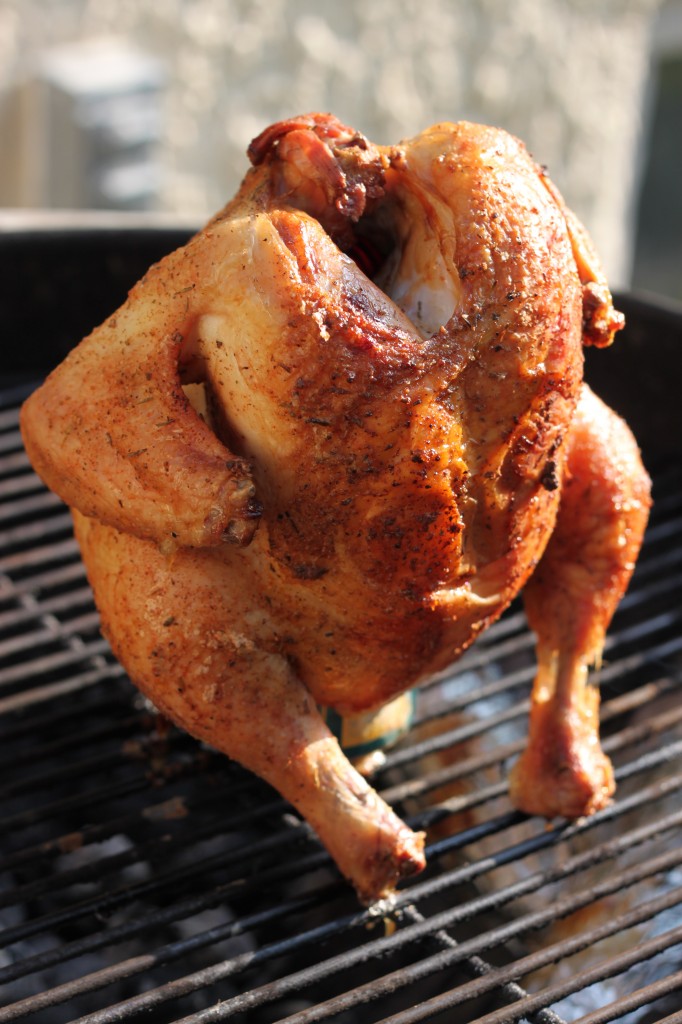 Beer Can Chicken
adapted from Food Network
Serves 6
You can also make beer can chicken in the oven instead of on a grill — try following the cooking instructions for this version of it (but note that this recipe calls for a smaller chicken; adjust your cooking time accordingly).
1 x 4 lb (about 2 kg) whole chicken
2 tablespoons vegetable oil
2 tablespoons salt
1 teaspoon black pepper
3 tablespoons of your favorite dry spice rub
1 can of beer
Remove the neck and giblets from the chicken and discard. Rinse the chicken inside and out, and pat it dry with paper towels. Rub the chicken lightly with oil, then rub it inside and out with salt, pepper and the dry rub. Set the chicken aside.
Open the beer can and take a few sips (make them big gulps so that the can is only half full). Place the beer can on a solid surface. Grabbing a chicken leg in each hand, plunk the bird cavity over the beer can. Transfer the bird-on-a-can to your grill and place it in the center of the grate, balancing the bird on its 2 legs and the can like a tripod.
Cook the chicken over medium-high, indirect heat (i.e. no coals or burners on directly under the bird), with the grill cover on, for approximately 1 1/4 hours or until the internal temperature registers 165°F in the breast area and 180°F in the thigh, or until the thigh juice runs clear when pierced with a sharp knife. Remove the chicken from the grill and let it rest for 10 minutes before carving.
***
Maple Jalapeno Sour Cream
Makes 2 cups
2 cups (480 ml) sour cream
1 jalapeno, minced (seeds and membranes removed before mincing if you don't want it too spicy)
2 tablespoons maple syrup
salt and freshly ground black pepper, to taste
Gently mix all the ingredients in a small bowl. Serve immediately or cover and chill for up to 4 hours. Dollop on top of the roasted sweet potatoes.


Email this post

Print this post