We planted potatoes for the first time this year, joking that we were earning our Irish citizenship now. Of all the things we planted, my husband was most excited about the potatoes. The first thing he'd do when he got home from work was make a beeline to the garden to check on them, sometimes barely even stopping to say hello to the kids first. So when the diagnosis came back from our expert gardening friend that the potatoes had blight, he was pretty cut up about it. The good news is that the potatoes are still perfectly edible, but the bad news is they won't store well. Suffice it to say we're going to be eating a lot of potatoes over the coming weeks.
Most frittatas, which are like an Italian open-faced omelet, use potatoes, so it was one of the first things I thought of when faced with this sudden glut. Plus they're perfect summertime food — not too heavy or filling and ideal for picnics, since they're easy to transport and can be served at room temperature (I actually prefer them this way). It's also a good way of using up bits and bobs of things that are hanging around in your crisper or pantry, making them open to endless variations.* This one is our new favorite, but I also like making one with baby potatoes and jarred artichoke hearts, or if provisions are very low in the house, I can usually rustle up a classic Spanish tortilla.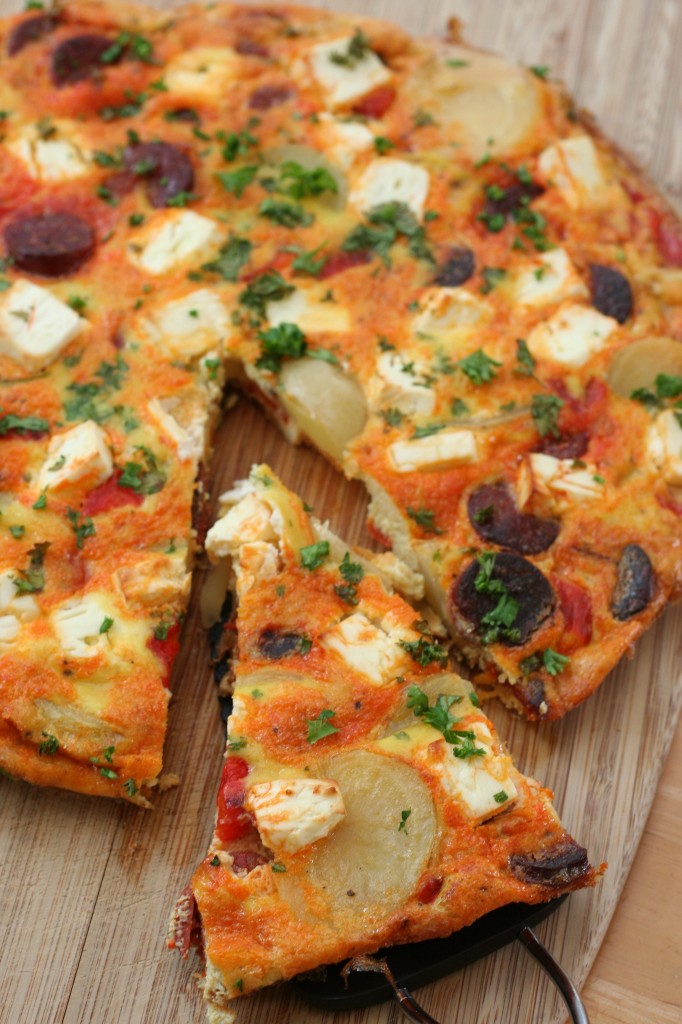 A word of warning here: to make a frittata, you need an ovenproof frying pan. No one wants to deal with a melted handle. And be sure to remember that the handle will be hot for quite some time after you take it out of the oven — I've burned my hand more times than I care to admit. Nowadays, I always leave an oven mitt or dishtowel wrapped around the handle as soon as I take it out of the oven to remind me to be careful.
Chorizo, Red Pepper and Feta Frittata
Serves 4 to 6 as a light dinner or brunch
For a vegetarian version, simply leave out the chorizo. Try to use potatoes that are roughly the same size so that they all cook in the same amount of time when you parboil them in the first step. Roasting the red peppers heightens their flavor, but if you don't have them, simply chop them and saute them along with the onions.
1/2 lb (225 g) baby potatoes, unpeeled and left whole
olive oil
5 oz (140 g) chorizo sausage, thinly sliced
1 red onion, thinly sliced
2 cloves garlic, roughly chopped
2 red peppers, roasted, skinned and roughly chopped (or use well-drained jarred roasted peppers)
8 eggs
salt and freshly ground black pepper
5 oz (140 g) feta cheese, cubed or crumbled
green salad, to serve
Preheat the oven to 350°F (180°C).
Bring a pot of water to a boil. Place the potatoes in the pot and boil for about 5 minutes, or until just cooked and fork tender — do not overcook them or they won't keep their shape when sliced. Drain. When they're cool enough to handle, slice thinly and set aside.
Heat a splah of olive oil in a large ovenproof, nonstick frying pan over a medium heat. Add in the sliced chorizo and cook for about 5 minutes, until the chorizo has released its oils into the pan and has browned slightly. Scoop the chorzio out of the pan with a slotted spoon and set aside to drain on a paper towel-lined plate. If there's an excessive amount of oil now in the pan, drain some off until only 1 or 2 tablespoons remain.
Reduce the heat to low, add the onion to the oil left behind in the pan and cook gently for 7 to 10 minutes, until softened. Add in the garlic and cook for 1 minute more, then remove from the heat. Add in the chopped roasted red peppers and set aside.
Whisk the eggs in a large bowl with a pinch of salt and some freshly ground black pepper (don't use too much salt, since the chorizo and feta are also quite salty). Stir in the potatoes and chorizo. Using a slotted spoon, transfer the onion and peppers from the pan to the egg mixture and give everything a good stir.
Wipe out the frying pan and add 2 tablespoons of fresh olive oil (you can use less oil if you have a really good nonstick pan). Heat the oil in the pan, then pour in the egg mixture, making sure the chorizo and vegetables are evenly distributed throughout the pan. Top with the feta cheese.
Transfer the pan to the oven and cook for 25 to 35 minutes, or until set in the center. Remove from the oven and allow to cool a little before sliding it out of the pan onto a large serving platter or cutting board. Serve warm or at room temperature with a green salad on the side.
*Here are a few other frittata variations from around the web:

Email this post

Print this post