I'm forgoing resolutions this year for a motto instead, one my German language teacher used to always say in school — work smarter, not harder. As a freelancer with deadlines always looming, two young children to look after and a house to constantly clean up after them, it's become something of a necessity these days. One of the ways I've been trying to put this into practice is rethinking the kinds of meals I make during the week. I'm not averse to spending time cooking — far from it — but getting dinner on the table with a four-and-a-half-year-old and a 20-month-old who's becoming more mischievous by the day is getting harder and harder lately. So now I'm looking through my cookbooks with an eye to what can be made quickly, easily and will make enough to have as leftovers the next night, freeing me up to spend more time with the children instead of at the stove. This chicken tagine is one such meal, the kind that's even better on the second day. Life's too short for resolutions I won't keep, but work smarter, not harder are words you can live by.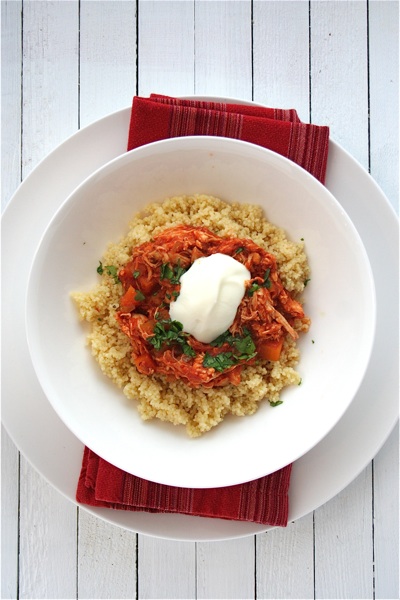 Moroccan Chicken Tagine with Lemon and Mint Couscous
adapted from Rachel's Favourite Food for Friends by Rachel Allen
Serves 4 to 6
Rachel Allen says that if you want to prepare this in advance (up to 24 hours), you could make the tomato sauce completely, let it cool (this is important) and toss the raw chicken pieces in it, then cover and put it all in the fridge. While it's waiting for you, it will be marinating and even improving in flavor.
3 tablespoons olive oil
4 large chicken breasts
salt and freshly ground black pepper
3 or 4 carrots, peeled and chopped
2 onions, chopped
1 tablespoon ground coriander
1 tablespoon ground cumin
1 tablespoon grated fresh ginger
1/2 teaspoon ground cinnamon
4 cloves garlic, chopped
1 tablespoon tomato paste
3 x 14 oz (400 g) cans of chopped tomatoes
1 bunch fresh cilantro, chopped
lime or lemon wedges, to serve
natural or Greek yogurt, to serve
Heat the olive oil in a large saucepan or pot (one that has a lid) over a medium heat. Season the chicken breasts well with salt and pepper, then add them to the pan (in two batches if you have to) and brown them for a few minutes on each side. Remove from the pan and set aside.
In the same pan, add the carrots, onions, ground coriander, ground cumin, ginger and cinnamon. Season with salt and pepper. Stir, then cook on a low heat with the lid on for about 10 minutes, until the onions are soft. Add in the garlic and cook for 1 minute more. Add the tomato paste and chopped tomatoes, then add the chicken breasts back to the pan, nestling them into the sauce so that they're covered. Cook on a low heat with the lid on, stirring every so often, for about 30 minutes, until the chicken is cooked. Alternatively, if you want the chicken to become even more tender, cook for about 1 hour, until the chicken falls apart easily when you prod it with a fork (this is how I always make it).
To serve, add most of the chopped cilantro to the pot and stir. Spoon some couscous (see below) onto a plate and spoon the chicken and sauce on top, with a wedge of lemon or lime on the side and a dollop of Greek yogurt and a final sprinkle of cilantro.
***
Couscous with Lemon and Mint
Serves 4
2 cups (400 g) couscous
2 tablespoons olive oil
juice of 1 lemon
2 cups (500 ml) boiling chicken stock or water
salt and freshly ground black pepper
3 tablespoons chopped fresh mint, cilantro or parsley
Place the couscous in a bowl, add the olive oil and lemon juice and mix well to coat the grains. Pour in the boiling stock or water and season with salt and pepper. Cover and allow to sit in a warm place until all the liquid has been absorbed, about 5 to 10 minutes. Fluff up the couscous with a fork (not a spoon, or it will stay stuck together) and stir in the chopped herbs just before serving.

Email this post

Print this post