I've eaten so much pasta in my life that my blood must be part durum wheat by now. My childhood memories of dinner are crowded with images of a big bowl of salad and a basket of garlic bread on the table and a pot of spaghetti on the stove, with a huge bucket of Kemp's ice cream in the freezer for dessert. It's no wonder, then, that pasta is still my go-to comfort food or the first thing I think of when I want a quick dinner. After two weeks of time-consuming holiday cooking, I'm in the mood these days for something effortless but still satisfying. This famous tomato sauce from Marcella Hazan fits the bill on both counts. The recipe couldn't be easier — melt some butter, put a halved onion in the pan, pour in some canned tomatoes and let it all simmer for 45 minutes — but the result is an alchemical kind of magic. It's the little black dress of pasta sauces — simple, sophisticated and versatile. You wouldn't think it was possible for a humble can of tomatoes to be transformed into such a silky-smooth sauce so full of flavor, but don't wait much longer to try this and see for yourself. Add in a baby leaf salad tossed with my favorite balsamic vinaigrette, a loaf of Parmesan garlic bread and a nice bottle of wine, and my favorite childhood dinner feels all grown up.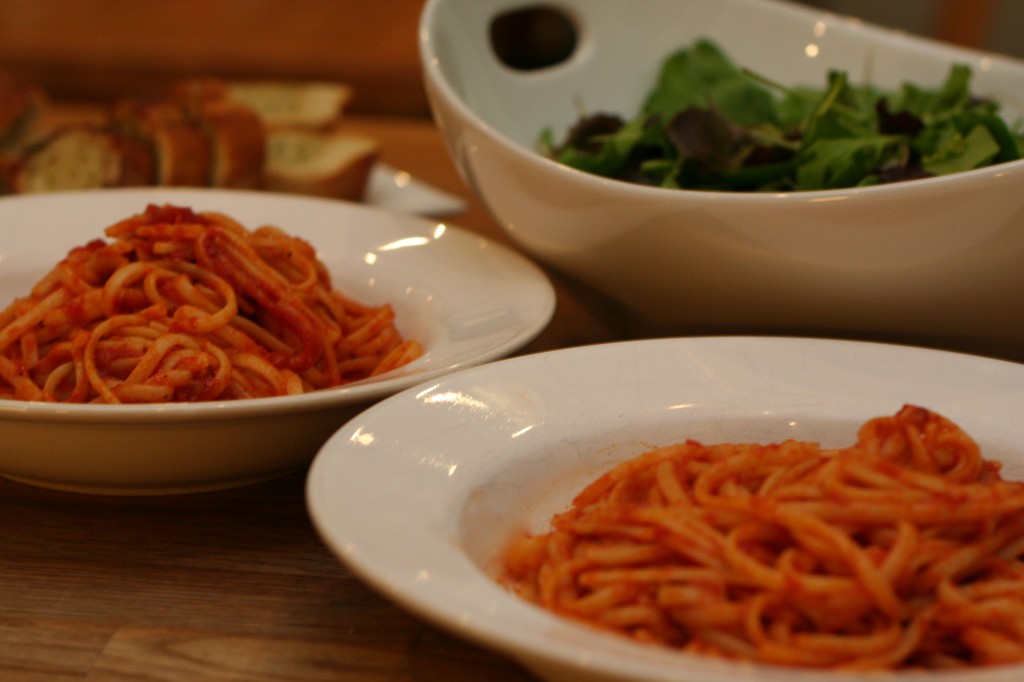 Marcella Hazan's Tomato Sauce
adapted from Essentials of Classic Italian Cooking
by Marcella Hazan
Makes enough sauce for about 1 lb (450 g) of pasta, or 4 servings
5 tablespoons (75 g) unsalted butter
1 medium yellow onion, peeled and cut in half
1 x 28 oz can (or 2 x 14 oz/400 g cans) whole plum tomatoes, with their juices
salt and freshly ground black pepper
To make the tomato sauce, melt the butter in a large pot (one that can also accommodate all the pasta later) over a medium heat, then add in onion halves and pour in the tomatoes with their juices. Season generously with salt and pepper. Bring the sauce to a simmer, mashing up the tomatoes gently with the back of a wooden spoon. Cook, uncovered, at a very slow but steady simmer, adjusting the heat as necessary, for about 45 minutes, or until droplets of fat float free from the tomato and the sauce has reduced and thickened. Stir occasionally, continuing to mash any large pieces of tomato with the wooden spoon. Taste for seasoning, then discard the onion when the sauce is ready. Add your cooked, drained pasta directly to the sauce in the pot and stir until all the pasta is coated.
***
Balsamic Vinaigrette
adapted from Epicurious, March 2003
Makes about 3/4 cup (180 ml)
3 tablespoons balsamic vinegar
1 tablespoon Dijon mustard
1 garlic clove, minced
1/2 cup (120 ml) olive oil
salt and freshly ground black pepper
In a screw-top jar, combine the vinegar, mustard, garlic and oil, shaking well to combine. Season with salt and pepper to taste.

Email this post

Print this post