This was originally going to be tilapia, Veracruz style but Reuben was too enamored with the halibut to pass it up. I especially liked this preparation not only for the taste but also because the sauce can be made the night before. As you can see from my photo (thank you Reuben for my early birthday present), it's even pretty enough for guests.
I try to serve seafood at least once a week, not only because it's healthy, but also because it is quick. U.S. tilapia and wild Alaskan salmon are my fish of choice — the tilapia for its price and the wild salmon for its omega‑3. Both fish are also sustainable. I recommend Monterey Bay's Seafood Watch Program to check whether your seafood choices have low toxin levels and minimal environmental impact.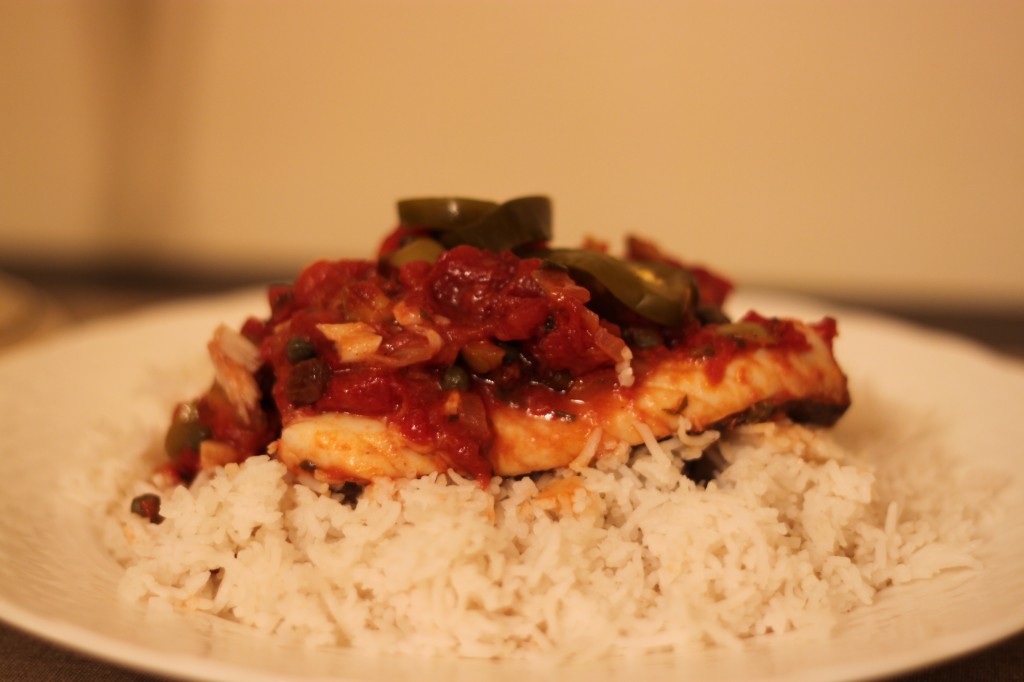 Halibut, Veracruz Style
adapted from Bon Appétit, May 2003
Serves 6
1 x 28-oz (780‑g) can diced tomatoes in juice, well drained, juices reserved
1/4 cup (60 ml) extra-virgin olive oil
1/2 onion, finely chopped
3 large garlic cloves, minced
2 small bay leaves
3 tablespoons chopped fresh parsley
1 teaspoon dried Mexican oregano
1/3 cup (50 g) chopped pitted green olives
2 tablespoons raisins
2 tablespoons drained capers
6 halibut, tilapia or red snapper fillets (about 1 1/2 lbs/680 g total)
pickled jalapeño chilies, sliced
Place the drained tomatoes in a medium bowl. Using a potato masher, crush the tomatoes to a coarse puree. Drain again, reserving juices.
Heat the oil in heavy large skillet over medium-high heat. Add the onion and stir 30 seconds. Add the garlic and stir 30 seconds. Add the tomato puree and cook 1 minute. Add the bay leaves, parsley, oregano, and 1/4 cup (60 ml) reserved tomato juices. Simmer until the sauce thickens, about 3 minutes. Add the olives, raisins, capers, and all the remaining reserved tomato juices. Simmer until the sauce thickens again, stirring occasionally, about 8 minutes. Season the sauce to taste with salt and pepper. (Can be made 1 day ahead. Cover and refrigerate.)
Preheat the oven to 425°F (220°C). Spread 3 tablespoons of sauce in the bottom of a 13 x 9‑inch glass baking dish. Arrange the fish on top of the sauce. Sprinkle the fish lightly with salt and pepper. Spoon the remaining sauce over the fish. Bake uncovered until the fish is just opaque in center, about 15 to 20 minutes. Using a long spatula, transfer the fish with sauce to plates. Garnish with the pickled jalapeño slices. Serve with rice.
***
Orange-Lime Cumin Vinaigrette
adapted from Manger La Ville!
Makes about 1/2 cup (120 ml)
1 small clove garlic
kosher salt
3 tablespoons fresh lime juice
3 tablespoons fresh orange juice
2 teaspoons minced shallot
1/2 teaspoon ground cumin
1 tablespoon honey
1/4 cup (60 ml) olive oil
freshly ground pepper
Mince and mash clove of garlic with about 1/2 teaspoon salt. In a medium bowl whisk the garlic paste, lime, orange juice, shallot, cumin and honey. Slowly add the oil while whisking to emulsify the mixture. Season with salt and pepper to taste.

Email this post

Print this post