I think Orangette was the first food blog I ever read. Kristin pointed me towards it years ago and I was hooked. Being the thoughtful friend that she is, Kristin sent me Molly Wizenberg's (aka Orangette) book, A Homemade Life: Stories and Recipes from My Kitchen Table
, last week for my birthday. I had already planned to make this salad, but the arrival of the book sealed the deal. It was fate. It was kismet. It was delicious.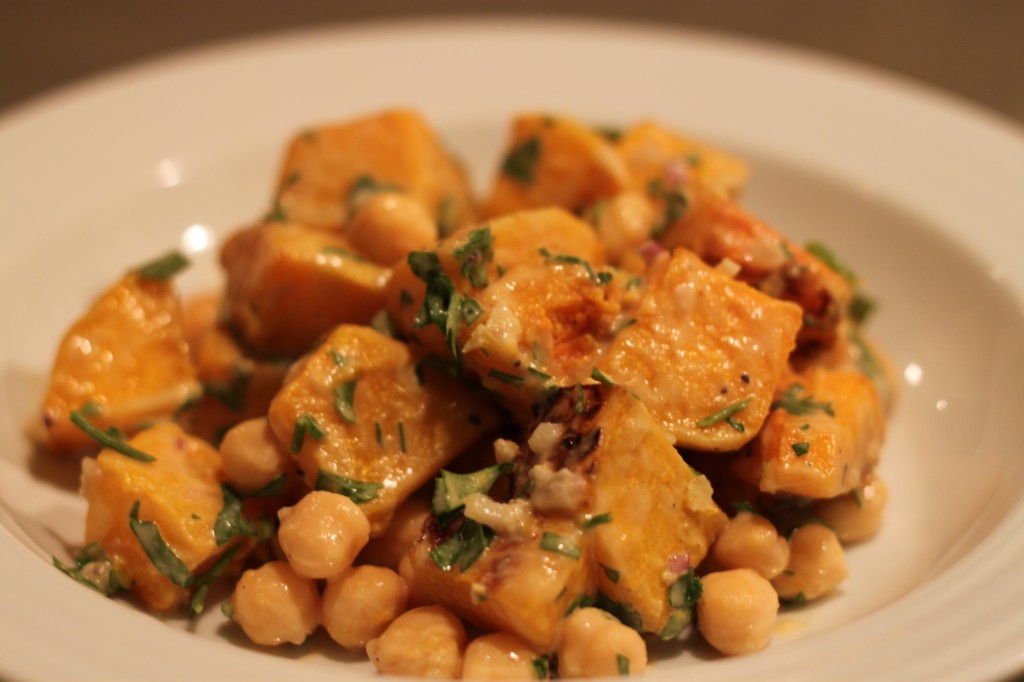 Warm Butternut and Chickpea Salad with Tahini
adapted from Orangette
4 servings
For salad:
1 medium butternut squash, peeled, seeded, and cut into 1 ½‑inch pieces
1 medium garlic clove, pressed
½ teaspoon ground allspice
2 tablespoons olive oil
salt
1 x 15-oz (425 g) can chickpeas, drained and rinsed
1 or 2 shallots, finely chopped
¼ cup (10 g) coarsely chopped parsley or cilantro leaves
For tahini dressing:
1 medium garlic clove, finely minced with a pinch of salt
3 ½ tablespoons lemon juice
3 tablespoons well-stirred tahini (sesame paste)
2 tablespoons water
2 tablespoons olive oil, plus more to taste
Preheat the oven to 425°F (220°C).
In a large bowl, combine the butternut squash, garlic, allspice, olive oil, and a good pinch or two of salt. Using a large spoon or your hands, toss until the squash pieces are evenly coated. Turn them out onto a baking sheet, and bake for 15 to 25 minutes, or until soft. Remove from the oven and cool.
Meanwhile, make the tahini sauce. In a small bowl, whisk together the garlic and lemon juice. Add the tahini, and whisk to blend. Add the water and olive oil, whisk well, and taste for seasoning. The sauce should have plenty of nutty tahini flavor, but also a little kick of lemon. (I found that my tahini was a little bitter and that the lemon was a bit much, so I added additional olive oil to tame both.)
To assemble the salad, combine the squash, chickpeas, onion, and parsley in a mixing bowl. Add tahini sauce about 1/2 cup of dressing, and toss carefully. Serve, with the extra tahini dressing on the side and additional salt for sprinkling. This tastes great with a crusty piece of bread.
Note: This salad, lightly dressed, keeps beautifully in the fridge. Before serving, warm slightly with quick jolt in the microwave and serve with any extra tahini dressing.

Email this post

Print this post