Apologies to you all for the unexpected posting hiatus. I had to take a trimester off if you know what I mean…
Like all my other pregnancies, this one announced itself with 24/7 nausea and an aversion to nearly all food. Luckily, my second trimester started this week and I am feeling better already. Though not quite ready to eat with abandon, at least I've found a few things to get me excited about being in the kitchen, namely rhubarb and ginger. For those not familiar with this leafy perennial, rhubarb stalks look like rose-hued celery and it's leaves are large and broad. It really needs to be cooked to be edible and even then, due to its tartness, usually relies on a fair amount of sugar or other sweetener to make it palatable. The house we purchased last fall came with two ancient rhubarb plants, with leaves about the size of an overweight cat. Big! Apparently, the neighbors (the plant borders the alley and our neighbors are free to take as many stalks as they want) tried to transplant part of it a few years ago. After several hours of work they gave up, unable to hack apart the thick old roots holding it, and probably my house's foundation, in place.
Though I still adore the Lemon Buttermilk Rhubarb Cake posted years ago, I've been experimenting with other rhubarb recipes. This syrup, combining rhubarb with my anti-nausea weapon (aka ginger), is delightfully tart yet sweet enough for even the kids to enjoy. Paired with soda water, it is perfect summer refreshment. I'd imagine it might also be fantastic paired with ice cold vodka or a crisp sparkling wine and would love to hear the results if anyone is willing to test these combos out for me.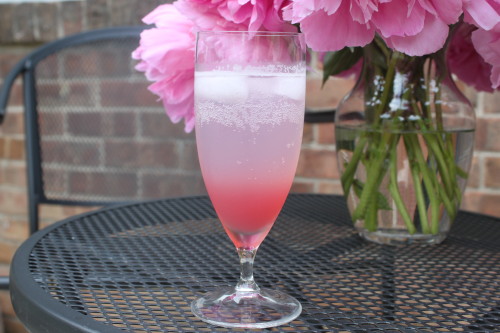 Rhubarb Ginger Spritzer
adapted from Knit & Nosh
Makes 2 to 3 cups
4 lbs (1.8 kg) rhubarb, ends trimmed
1 to 2 inches fresh ginger, peeled roughly
1 cup (240 ml) water
Sugar
Wash the rhubarb and cut the stalks into one inch pieces. No need to measure, they are going to break down completely.
Peel the ginger, but do not be too concerned about getting every bit of peel off. Cut the ginger into slices. You want to maximize the ginger's surface area for flavor, but do not worry about peel in the final product.
Place the rhubarb, ginger, and water in a large non-reactive pan and bring to a boil. Do not cover. Once the mixture is boiling, reduce heat and simmer 30 minutes or until the rhubarb is very soft and broken down. Let the mixture cool slightly.
Pour the mixture into a fine mesh strainer held over a large bowl and let it drain for at least one hour.
Measure the drained liquid and pour it into a medium non-reactive pan. Add half as much sugar as you have liquid. I had 2 cups rhubarb liquid so I added 1 cup of sugar.
Heat the liquid and sugar, stirring to dissolve and bring it to a boil. Boil for two minutes and then pour into a clean glass jar (or two). Let cool then store, covered, in the fridge.
To make spritzer: Mix 1 cup (240 ml) of soda (sparkling) water with 1 to 3 tablespoons of cooled syrup (to taste). Add ice and enjoy.

Email this post

Print this post