The birth of a new child is usually heralded by the delivery of clothes, bibs, and other soft pastel things. In my experience, what most moms really need during those early weeks is a hot meal and long shower, not another outfit to wash and put away. It's not that I didn't love getting adorable clothes and blankets for my kids, but I wasn't able to appreciate them for a couple months. I had to wait for life to settle back into a routine and for sleep lasting longer than two hours at a stretch. Since I can't help out with the long shower, I try to deliver a home-cooked meal for my friends with new babies.
I especially like this menu for gifting. You can easily double the chili and split the batch of muffins — an easy way to make a meal for your family and theirs at the same time. I recommend adding a tossed salad. This week, a salad was out of the question as the meal was traveling too far (a three-hour ride to Chicago due to construction). Instead, I included a ziploc bag of fresh corn, already cooked but still on the cob. As mentioned in previous posts, the corn can be cut off the cob and used in a salad or reheated in a pan with butter and salt and pepper.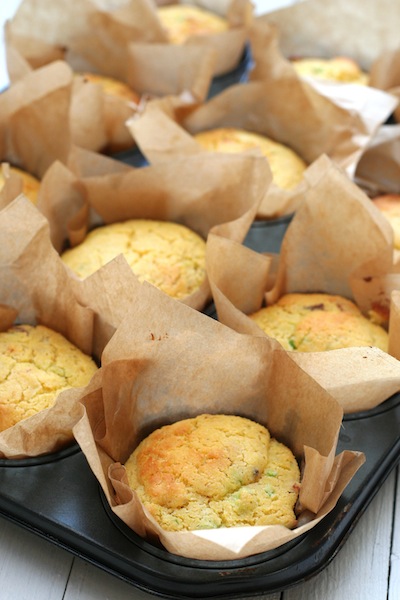 White Chicken Chili
adapted from my cousin Bridget's recipe
Serves 4
3 boneless, skinless chicken breasts (about 1 1/2 lb/680 g), diced into 1/4‑inch cubes
1 onion, diced
2 tablespoons vegetable oil
2 cloves garlic, minced (or 1 teaspoon garlic powder)
1 x 14 oz (400 g) can great northern beans, drained and rinsed
1 x 4 oz (110 g) can diced green chilies
14 oz (400 ml) chicken broth
1 teaspoon cumin
1 teaspoon salt
1/2 teaspoon freshly ground black pepper
1/4 teaspoon cayenne
8 oz (225 g) sour cream
1/2 cup (120 ml) half and half (or whipping cream)
Brown the chicken and onion in the oil over a medium-high heat, stirring frequently. Add the garlic and cook for 1 to 2 minutes, until fragrant. Add the beans, chilies, broth, and seasonings and simmer for 30 minutes. Stir in the sour cream and half and half. Heat through, but do not boil.
***
Bacon Corn Muffins
adapted from Gourmet, January 2005
Makes 12 muffins
1 1/4 cups (300 ml) whole milk
1 large egg
6 tablespoons (90 g) unsalted butter, melted and cooled
1 cup (155 g) yellow cornmeal
3/4 cup (90 g) all-purpose flour
1 cup (75 g) chopped scallions
8 bacon slices (1/2 lb/225 g), cooked and crumbled
2 tablespoons sugar
1 tablespoon baking powder
3/4 teaspoon salt
Put the oven rack in the middle position and preheat the oven to 400°F (200°C).
Whisk together the milk, egg, and butter in a small bowl. Whisk together the remaining ingredients in a large bowl, then add the milk mixture to the dry ingredients. Stir until just combined. Divide the mixture among 12 greased (1/2 cup) muffin cups. Bake for about 20 minutes, until the muffins are golden and a tester comes out clean. Cool in the pan on a rack for 5 to 10 minutes before turning out.

Email this post

Print this post