No really. This is the best ever banana cake. I don't even like banana cake and I've made this twice in two weeks. It was so tasty, so perfectly textured, so cream cheese frosting‑y, I barely had time to snap a picture of myself eating it before it was gone. And yes, I do need a manicure but if I have a spare hour these days, I'm more likely to make a cake (this cake!) than drag myself to the salon. In addition to being one of my new favorite cakes, this recipe wins points on procedure alone. Unlike any recipe I've seen before, this cake bakes slow and low followed by an immediate trip to the freezer to cool. I was dubious, but the method works wonderfully.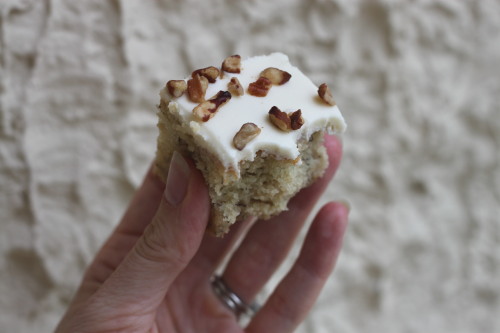 Best Ever Banana Cake with Cream Cheese Frosting
adapted from food.com
If you don't have buttermilk on hand, you can make it by combining 1 1/2 cups of milk with 2 tablespoons of lemon juice. Stir the milk and lemon juice together and let sit 10 minutes before using.
Serves 12
Cake:
1 1/2 cups (350 ml) mashed ripe bananas (about 3 large)
2 teaspoons lemon juice
3 cups (360 g) flour
1 1/2 teaspoons baking soda
1/4 teaspoon salt
3/4 cup (170 g) butter, softened
2 cups (400 g) sugar
3 large eggs
2 teaspoons vanilla
1 1/2 cups (350 ml) buttermilk
Frosting:
1/2 cup (110 g) butter, softened
8 oz (225 g) cream cheese, softened
1 teaspoon vanilla
3 cups (360 ml) icing (confectioners) sugar
chopped toasted pecans, to garnish (optional)
Preheat oven to 275°F (140°C). Grease and flour a 9 x 13 pan.
In a small bowl, mix the mashed banana with the lemon juice; set aside.
In a medium bowl, mix the flour, baking soda and salt; set aside.
In a large bowl, cream the butter and sugar until light and fluffy. Beat in the eggs, one at a time, then stir in the vanilla.
Beat in the flour mixture alternately with the buttermilk, beginning and ending with flour. Stir in the banana mixture.
Pour the batter into the prepared pan and bake for 65–80 minutes or until toothpick inserted in the center comes out clean. You may have to check the cake a few times, as cooking times can vary greatly with this cake. Remove the cake from the oven and place it directly into the freezer for 60 minutes. This will make the cake very moist.
While the cake cools, make the frosting. Cream the butter and cream cheese until smooth. Beat in the vanilla. Add the icing sugar and beat on low speed until combined, then on high speed until the frosting is smooth. Spread the frosting on the cooled cake. Sprinkle chopped pecans over the frosting, if desired. Store in the refrigerator, covered.

Email this post

Print this post