You haven't seen it yet, but I make a pretty fabulous African influenced braised chicken dish. I adore the succulent melt-in-your pieces of chicken that are baked slow and low with a spicy, sweet peanut butter sauce and vegetables. Unfortunately, it's so gosh darn good that I am always too hungry to take the time to photograph it properly. It is rather "rustic" with lots of shades of brown, which certainly doesn't help its lens appeal. So tonight, instead of snapping a couple dozen more pictures of the poor peanut butter sauced chicken, I thought I'd experiment with a vegetarian spin on the dish. The bright orange sweet potatoes do look–if not exactly stunning–far better than the chicken, especially when served alongside a little cooked quinoa. It made for a lovely weeknight meal, though I couldn't convince my almost-three year old to try the sauce, even with the promise of peanut butter inside.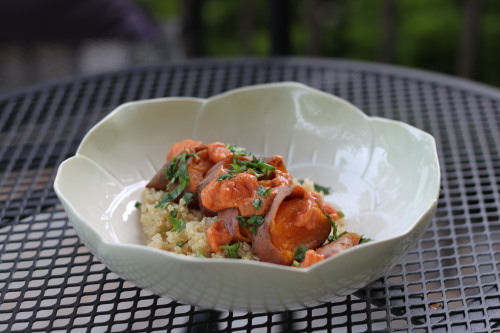 Baked Sweet Potatoes with West African-Style Peanut Sauce
adapted from Cooking Light, October 2006
This recipe would make a nice light lunch. For a more robust dinner, serve alongside a piece of grilled fish or chicken with steamed vegetables or a green salad.
Serves 6 as a side dish, 3 as a main course
6 medium sweet potatoes (about 3 lbs/1.5 kg)
1 teaspoon canola oil
1/2 small onion, finely chopped
1 tablespoon grated peeled fresh ginger
2 garlic cloves, minced
1 1/2 teaspoons ground cumin
1 1/2 teaspoons ground coriander
1/8 teaspoon ground red pepper
3/4 cup (180 ml) water
8 oz (225 g) tomato sauce
1/3 cup (80 g) peanut butter
1 teaspoon sugar
1/2 teaspoon salt
chopped fresh cilantro
cooked quinoa or rice (optional)
Preheat oven to 375°F (190°C). Pierce the potatoes with a fork, and bake at 375° for 1 hour or until tender. Cool the potatoes slightly.
Heat the oil in a medium skillet over medium-low heat. Add the onion, ginger, and garlic; cook 3 minutes. Add the cumin, coriander, and pepper; cook 1 minute. Add 3/4 cup water and the next 4 ingredients (through salt), stirring until smooth; bring to a simmer. Cook 2 minutes or until thick. If the sauce becomes too thick, add a tablespoon or two of water.
If serving with quinoa or rice as a main course, gently cut the potatoes cross-wise into thick slices. Place the potatoes on the quinoa then top with the sauce and cilantro to taste. If serving the potatoes as a side dish, split the potatoes lengthwise, cutting to, but not through, the other side. Spoon about 1/4 cup sauce into each potato. Top each serving with a bit of cilantro.

Email this post

Print this post