My grandma's neighbor is a baker and gives her leftover bread, which she sometimes passes down to me (lucky me!). This week I received two loaves of focaccia and decided to use one of them for a sandwich experiment. Not only was I looking for that perfect, toasted, crispy, savory bite, oozing with a little cheese, I wanted to see how much food I could clear out of my cupboard at the same time. I formulated and tested the following hypothesis: 1 jar of sun-dried tomato spread bought on sale a year ago + leftover chicken + excellent piece of goat's milk mozzarella = hopefully something good enough to serve a guest. Luckily for my friend Denise who served as my test subject, the experiment succeeded. My high school chemistry teacher, or at least my home ec teacher, would be proud.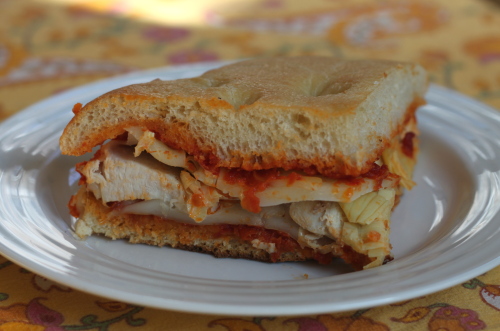 Oven Baked Chicken Focaccia Sandwich
A note for our American readers, this is a great way to use up your leftover Thanksgiving turkey, especially the white meat which tends to be a little bland for my taste.

Serves 4
1 loaf focaccia bread
7 oz (200 g) prepared sun-dried tomato spread or pesto
1/2 lb (225 g) boneless, skinless chicken or turkey breast, cooked and sliced
1/2 lb (225 g) mozzarella, sliced or shredded
4 oz artichoke hearts, roughly chopped
Preheat the oven to 400°F (200°C). Carefully cut the loaf of focaccia in half horizontally. Spread one half of the sun-dried tomato spread or pesto onto the cut side of each piece of bread.
On the bottom (spread side up) of the soon-to-be sandwich layer half the cheese. Next, cover the cheese with the cooked chicken, seasoning the chicken to taste with salt and pepper. Sprinkle the artichoke pieces around the chicken then add a final layer of mozzarella. Top the sandwich with the other bread half, spread side down and push the sandwich together lightly.
Wrap the sandwich in aluminum foil and place it on a baking sheet. Bake the sandwich for 20 minutes or until the cheese just begins to melt and the bread is golden and toasty. Cut the sandwich into 4 wedges before serving.

Email this post

Print this post