Last week I went to visit a local cheesemaker, Peter Thomas, who makes the award-winning Bellingham Blue cheese. He also has a big garden and the beginnings of a small orchard, and after admiring all the fruit, he promptly pulled up more rhubarb than I could carry and sent his daughter out to pick a big bowlful of plums and apples to send home with me. With such unexpected bounty (not to mention half of wheel of cheese!), I pulled out this old favorite for dinner. Kids like it because of the sweetness from the jam and fruit. It's the perfect dish for this time of year, when plums are in season — especially if you're lucky enough to get them fresh off a tree that's so laden down with fruit that its branches are breaking from the weight.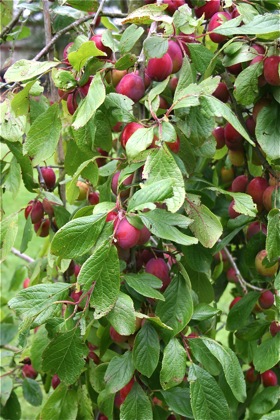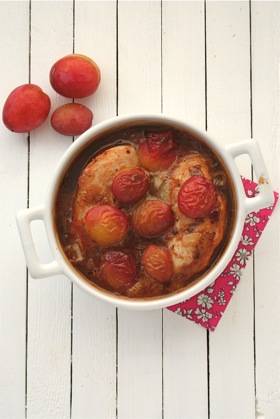 Baked Chicken with Plums, Ginger and Soy
adapted from Avoca Café Cookbook
Serves 6
If you can't get plum jam or fresh plums, try using apricot jam and fresh apricots instead.
olive oil
6 chicken breasts
salt and freshly ground black pepper
a knob of butter
1 onion, chopped
3 garlic cloves, chopped
1 x 12 oz (350 g) jar of plum or damson jam
2 tablespoons brown sugar
2 tablespoons lemon juice
1 tablespoon soy sauce
1 tablespoon tomato puree
1 teaspoon ground ginger
1 teaspoon dry mustard powder
1 teaspoon Worcestershire sauce
6 to 8 fresh plums, stoned and quartered
cooked plain rice, to serve
steamed broccoli, to serve
Preheat the oven to 350°F (180°C).
Heat some olive oil in a pan over a medium-high heat. Season the chicken breasts on both sides and brown them in the pan, then set aside. Add a knob of butter to the pan and turn the heat down to medium. Saute the onion for 10 minutes, until soft but not browned (add a pinch of salt to the onions to help prevent them from browning). Add in the garlic and cook for 1 minute more. Add in all the remaining ingredients except the plums and simmer for 15 minutes.
Arrange the chicken pieces in a single layer in a large baking dish. Cover with the sauce and scatter over the quartered plums. Cook in the oven for 30 to 40 minutes, until the sauce is bubbling and the chicken is cooked through. Serve with rice and some steamed broccoli on the side.

Email this post

Print this post