Spaghetti alla puttanesca is a classic store cupboard staples recipe. Nicknamed "whore's pasta," Nigella Lawson writes that "the general consensus seems to be that this is the sort of dish cooked by slatterns who don't go to market to get their ingredients fresh, but are happy to use stuff out of jars or tins." Last week we spent five days in the west of Ireland in County Sligo, and coming home to an empty fridge after driving coast to coast (which, granted, only takes 3 hours from Sligo to Louth), I was still able to rustle this up from basics that I always have in the pantry along with a green salad from my garden. Whore's pasta to the rescue!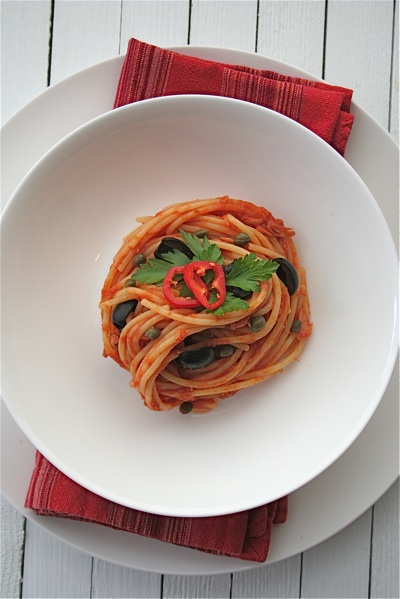 Spaghetti alla Puttanesca
Serves 4 to 6
1 1b 2 oz (500 g) spaghetti
olive oil
2 or 3 garlic cloves, chopped
1 or 2 fresh red chillies, finely chopped, or 1/2 teaspoon chilli flakes
1 x 1 oz (30 g) can of anchovy fillets, drained and chopped
1 x 8 oz (225 g) can of tuna, drained
2 tablespoons capers, drained
1 x 1 1/2 lb (700 g) jar of passata or 2 x 14 oz (400 g) cans of chopped tomatoes
salt and freshly ground black pepper
juice of 1 lemon (optional)
3/4 cup (100 g) stoned black olives, halved
a small bunch of fresh flat-leaf parsley, chopped
green salad, to serve
garlic bread, to serve
Cook the spaghetti in a large pot of boiling salted water according to the instructions on the packet.
Meanwhile, heat a large saucepan (one big enough to accommodate all the cooked pasta later) over a medium-low heat. Add a splash of olive oil, then add in the garlic, chillies and anchovies and cook for 1 or 2 minutes, until the anchovies have broken down and almost melted, but taking care not to let the garlic burn. Add in the tuna and capers, then stir in the passata or canned tomatoes. Season generously with salt and pepper, raise the heat to medium and allow to simmer while the pasta cooks.
Before draining the pasta, reserve a mugful of the cooking water. Add the drained pasta directly to the sauce and add in the lemon juice, the olives and most of the chopped parsley. Stir well to coat all the pasta with the sauce, adding in some (or all) of the reserved pasta cooking water if you want to loosen the sauce a bit. Divide the pasta between individual bowls or plates and scatter the remaining parsley on top to garnish. Serve with a green salad, garlic bread and a glass of wine.

Email this post

Print this post