Anyone else out there having salad withdrawal? What I wouldn't give for a plate of tender lettuces, crisp cucumbers and juicy tomatoes. But, alas, there is still snow in my yard and we are a long way from August. Though I promised myself to try more winter salads, I added only one to my repertoire this year, a hearty red cabbage and apple concoction that's more side dish than salad. The addition of bacon made it robust enough to serve to my steak-and-potatoes-loving dad. The baked potato soup served alongside also benefits from the addition of some crumbled bacon. And honestly, if you're going to the trouble of cooking up a few ounces of bacon for the salad, you may as well cook up the whole package. If we can't have great produce, we may as well enjoy another excuse to eat bacon.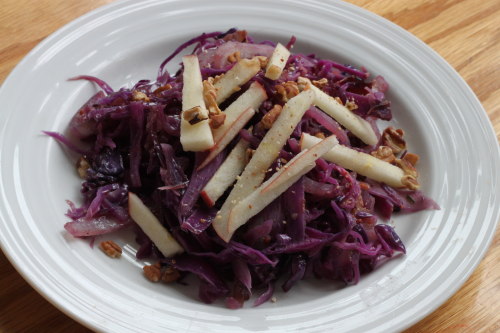 Red Cabbage Salad with Apples, Bacon, and Pecans
adapted from Best of the Best Vol. 9: The Best Recipes from the 25 Best Cookbooks of the Year
Serves 6
This cookbook is actually a compilation of recipes taken from other cookbooks. I love that someone else took the trouble of figuring out which recipes are winners since I have limited cookbook space in my kitchen. This recipe is from Chef Suzanne Goin's Sunday Suppers at Lucques
. I cut prep time for the recipe by skipping the freshly toasted bread crumbs called for in the original recipe and buying pre-roasted pecans. Chef Goin serves this salad alongside pork chops or duck.
1/2 cup (50 g) pecans
1/4 lb (110 g) bacon, sliced into 1/4 in. thick lardons
1 1/2 lbs (680 g) red cabbage, cored and finely shredded
1 red onion, halved lengthwise and thinly sliced crosswise
1 1 /2 teaspoons fresh thyme or 1/2 teaspoon dried thyme
2 tablespoons red wine or sherry vinegar
salt and freshly ground pepper
1 tablespoon whole-grain mustard
1 apple (Fuji, Gala, or Braeburn) halved, cored and cut into 2‑by‑1/4‑inch matchsticks
Spread the pecans in a heavy skillet and toast over medium heat for 5–6 minutes, stirring frequently, until fragrant and golden. Transfer the pecans to a plate to cool, then coarsely chop them.
In a large, deep skillet, cook the bacon over moderately high heat, stirring occasionally, until lightly browned but still chewy, about 6 minutes. Stir in the red cabbage, onion, and thyme. Add the vinegar and cook until the cabbage is wilted but still crunchy, about 6 minutes more. Season with salt and pepper.
In a large bowl, toss the cabbage with the mustard. Add the apple and toss gently. Sprinkle the salad with the toasted pecans and serve.
***
Baked Potato Soup
adapted from Smitten Kitchen
Serves 6
1 head garlic
3 tablespoons unsalted butter
2 medium leeks, white and light green parts halved lengthwise, washed, and chopped
6 cups (1 1/2 l) low-sodium chicken broth
2 bay leaves
3/4 teaspoon salt
2 1/4 lbs (1 kg) pounds russet potatoes, peeled and cut into 1/2‑inch cubes
1/3 (80 ml) cup sour cream
ground black pepper
toppings (optional):
fresh chives or scallions, minced
bacon bits
sour cream
cheddar cheese, grated
Rinse the head of garlic to remove any outside grit or dirt. Cut the top third off the head and peel any loose papery skins off the bottom two-thirds. Pop out some of the garlic clove tips and mince them.
In a large, heavy pot or Dutch oven, melt the butter over medium heat. Add the leeks and cook them until soft (but not brown), about 5 minutes. Add the minced garlic and cook another minute. Add the larger part of the garlic head (intact, not chopped), broth, bay leaves and 3/4 teaspoon salt. Reduce heat and simmer until the garlic is very tender when pierced with tip of knife, 30 to 40 minutes. Add the potatoes and continue to simmer, partially covered, until potatoes are tender, about 15 to 20 minutes. Stir occasionally, but gently.
Discard bay leaves. Carefully remove garlic heads. Optional: If you'd like an extra garlic boost to the soup, using tongs or paper towels, squeeze garlic head at root end until cloves slip out of their skins. Using a fork, mash the garlic cloves to smooth paste and add it back to the soup.
Stir in the sour cream to soup and cook for another 2 to 3 minutes. Adjust seasonings, adding more salt and pepper to taste. Using an immersion blender, process the soup until chunky-creamy, leaving lots of potato texture intact. (Alternatively, transfer a portion of the potatoes and broth to a food processor or blender and puree until smooth.) Serve with whatever makes you happy on top, or nothing at all.

Email this post

Print this post