Did you hear about the snowstorms in Europe that were wreaking havoc on people's Christmas travel plans? Well, that was us. Our hearts sank as the snow built up at Dublin airport on December 23, which shut the runway while we watched the plows go back and forth for hours (meanwhile, tractors were plowing the snow around the gates — an Irish solution to an Irish problem?). To make a long story of snowstorms, mechanical failures and missed connections short, it took us three days, two hotels and four airports (Dublin, Philadelphia, Charlotte, NC and Tampa) to finally reach my mother's house in Florida at 8:30 p.m. on Christmas Day. After that ordeal, a stiff drink was in order — plus some boozy food for good measure and an easy, espresso-infused ice cream sauce to perk up weary travelers.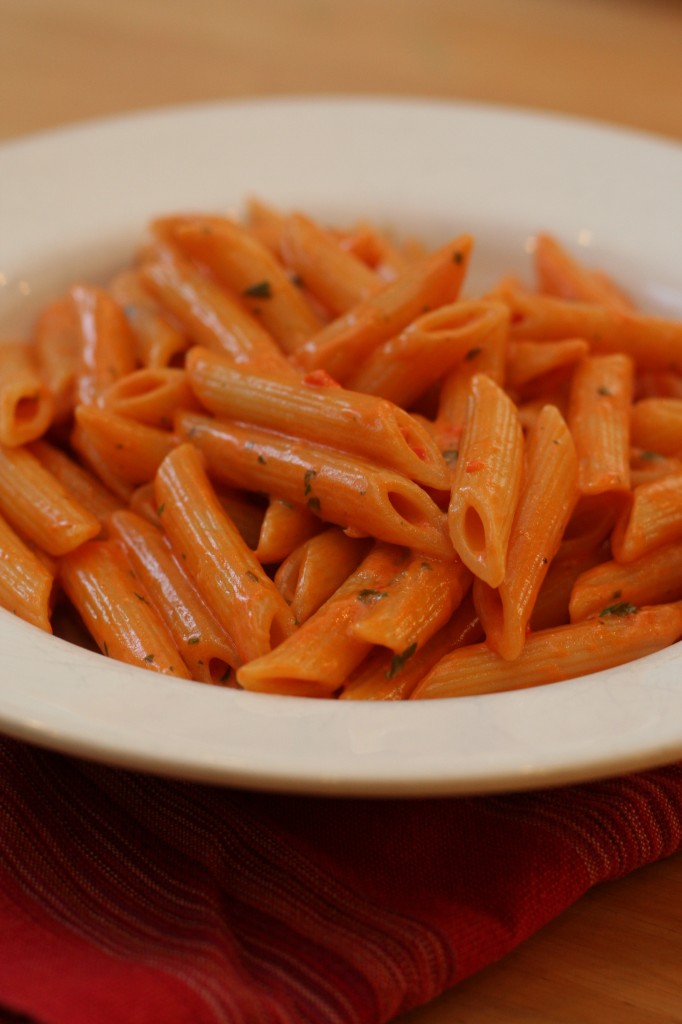 Penne alla Vodka
adapted from Catherine's Italian Kitchen by Catherine Fulvio
Serves 4
For a twist on this Roman dish, Catherine Fulvio suggests adding smoked salmon or cooked prawns at the last minute and heating through, while in Nigella Lawson's version of this recipe, she suggests adding cubed bacon. For a stronger vodka hit, I like to use Nigella's method of adding the vodka to the drained pasta along with a knob of butter, then adding the boozy pasta to the sauce. This method has the added advantage that if you're serving children, you can set aside a plain portion of pasta for them before adding the vodka to the rest.
1 lb (450 g) penne
1 tablespoon extra virgin olive oil
1 or 2 red chillies or 1 teaspoon dried red pepper flakes
3 tablespoons tomato paste
1/4 cup (4 tablespoons) water
1 cup (250 ml) heavy cream
1/4 cup (4 tablespoons) vodka
1 cup (100 g) freshly grated Parmesan
salt and freshly ground black pepper
Cook the pasta according to the packet instructions in plenty of boiling salted water.
Meanwhile, heat the olive oil in a large frying pan that's big enough to also hold the cooked pasta. Add the chillies and saute over a medium heat for 1 to 2 minutes. Add the tomato paste and the water. Simmer over a low heat for 1 to 2 minutes, stirring frequently with a wooden spoon to prevent it from sticking to the pan and burning. If need be, add more water. Stir the cream into the chili and tomato mixture. Add the vodka and simmer for about 3 minutes more. (Alternatively, add the vodka to the drained pasta for a stronger sauce — see the note above.)
Drain the pasta and transfer to the pan with the sauce, then add the Parmesan cheese. Mix thoroughly, taste for seasoning and serve.
***
Blonde Mocha Sauce
adapted from Feast by Nigella Lawson
Serves 10
While I now prefer Catherine Fulvio's vodka alla penne recipe to Nigella Lawson's, this blonde mocha sauce is part of Nigella's Supper alla Romana menu for easy entertaining from Feast
(which is comprised of the pasta, this ricotta and pine nut salad and ice cream with this blonde mocha sauce). Nigella vows that even people who don't like white chocolate like this sauce.
8 oz (225 g) white chocolate
2 cups (500 ml) heavy cream
3 tablespoons instant espresso powder
ice cream, to serve
Break the chocolate into chunks and put into a heavy-based saucepan on the lowest heat possible with all the other ingredients. When the chocolate has melted, take the pan off the heat and whisk vigorously to thicken the sauce. Pour the blonde mocha sauce into a pitcher or glass measuring cup, cover the surface directly with a thin skin of plastic wrap and when cool, stick it into the fridge for 4 to 6 hours to allow it to thicken and firm up. When you're ready to pour it over the ice cream, take it out of the fridge, give it a good stir and use it straight from the pitcher.

Email this post

Print this post