When I was back home in the US in July, my friend Leah and I took a day trip to the wineries of southwestern Michigan, but before we made our way to a few of them, we stopped for lunch first. We had planned to have a posh lunch at the Tabor Hill Winery but it turned out they were closed on the day we went, so we backtracked to the lakeside resort town of New Buffalo, complete with waterfront condos and shops selling taffy, tacky souvenirs and cheap T‑shirts. The restaurant we wound up at was The Stray Dog, where we sat on the screened-in porch overlooking the boats in the marina across the street, eating fish tacos and fries and drinking iced tea — a perfect Plan B, actually.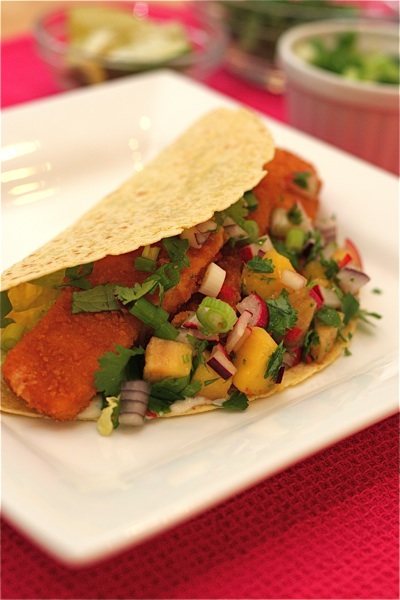 To make fish tacos at home, I feel no shame in using lowbrow frozen fish sticks. I figure that if foodie heavyweights Jamie Oliver and Nigel Slater can get away with publishing recipes that use them (they both make sandwiches with them), then I'm in good company. I've always considered them to be my guiltiest foodie secret, buried deep in the freezer where no one can see them, reserved for the nights when I'm just too frazzled to face cooking dinner. But I'm coming clean now and adopting Jamie Oliver's approach: "Be proud to eat fish fingers, that's what I say."
Fish Tacos with Mango Radish Salsa
adapted quite a lot from Tyler Florence
Serves 4
I'm sure Tyler Florence's original recipe for homemade goujons using mahi mahi and panko is a real treat, but here is my unapologetically bastardized — and faster and easier — version. He also calls for a pink chile mayo made with canned chipotles in adobo sauce, and even though I brought back a couple cans from my trip, I was feeling too stingy to use them for this and improvised with this lime mayo instead.
for the fish tacos:
24 fish sticks (a.k.a. fish fingers in Ireland/the UK)
1/2 head Savoy cabbage, finely shredded
1/2 bunch cilantro, leaves only, roughly chopped
6 spring onions or 1 bunch chives, chopped
lime wedges, to serves
corn or flour tortillas, to serve
for the lime mayo:
1/2 cup (120 ml) mayonnaise or sour cream
zest and juice of 1 lime
salt and freshly ground black pepper
for the mango radish salsa:
4 to 6 red radishes, diced
2 mangoes, peeled and diced
1 red chili, finely diced (optional)
1/2 red onion, diced
juice of 1/2 lime
1/2 bunch fresh cilantro, leaves only, roughly chopped
salt and freshly ground black pepper
Cook the fish sticks (fingers) according to the instructions on the package. Keep warm until ready to serve.
To make the lime mayo, whisk together the mayo, lime zest and juice and season to taste with salt and pepper. Refrigerate until ready to use.
To make the mango radish salsa, combine the mango, radishes, chili and red onion in a bowl. Pour over the lime juice and stir well, then scatter over the chopped cilantro and season to taste. Refrigerate until ready to use.
Serve the tacos buffet style: pile up the fish sticks on a plate, put the lime mayo in a bowl and the mango radish salsa in another. Set a pile of shredded cabbage, cilantro leaves, chopped spring onions/chives and lime wedges next to the fish. Warm the tortillas in the oven for a minute or two (or zap them in a microwave) and serve, letting everyone help themselves.
***
Sweet Potato Wedges
adapted from Every Day by Bill Granger
Serves 4
2 lb (900 g) sweet potatoes, skin left on and cut into wedges
2 tablespoons olive oil
2 teaspoons smoked paprika
1/4 teaspoon cayenne pepper (optional)
salt and freshly ground black pepper
lime wedges, to serve
Preheat the oven to 450°F (230°C).
Toss the sweet potato batons with the olive oil, paprika, cayenne and salt and pepper. Scatter them in a single layer on a large baking sheet and bake for 30 minutes, stirring occasionally, until the wedges are golden brown. Serve with lime wedges.

Email this post

Print this post