Sometimes I'll try a new recipe and find myself shocked that it isn't already part of my regular recipe rotation. You know the ones — quick, easy, cheap. This is one of those recipes. In the time it takes to preheat your grill, you can make a fabulously fresh-tasting paste of fresh herbs, lemon, and garlic to top the chicken. Serve the chicken with already cooked slow cooker baked potatoes (another I‑can't-believe-how-easy-this-is preparation) and fresh steamed vegetables for a light but memorable dinner. If you have an extra half hour, you can whip up the equally quick, equally fabulous coconut cake. I knew it was a successful dessert when I noticed my usually sugar-avoiding mother-in-law sneaking slivers of it before dinner the following night.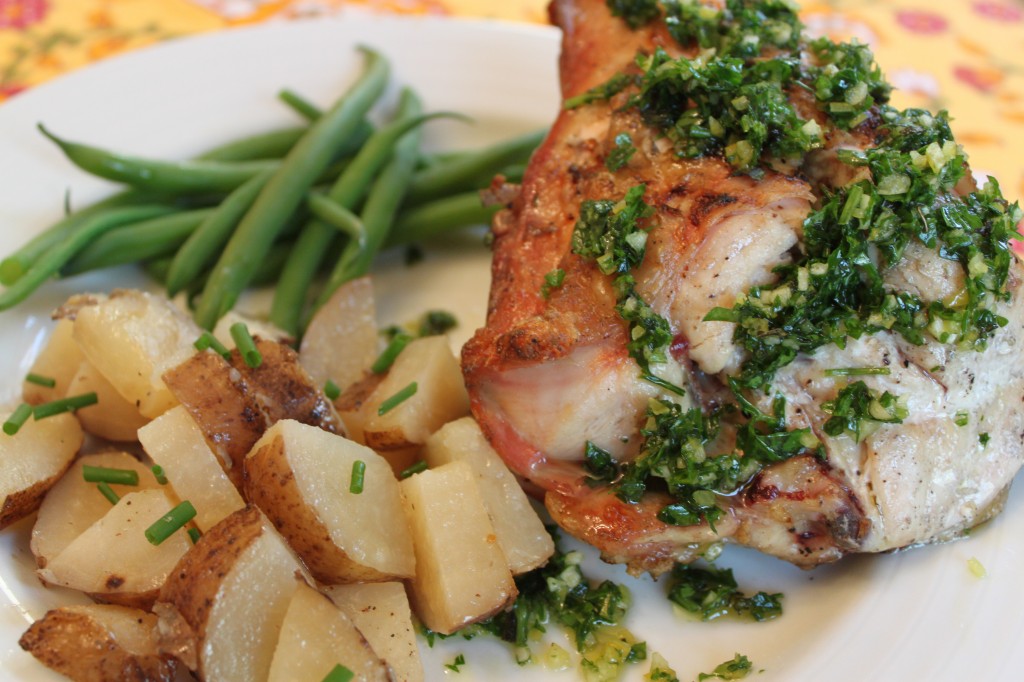 Grilled Chicken with Gremolata
adapted from Giada's Family Dinners by Giada De Laurentiis
Serves 4
1/4 cup (10 g) finely chopped fresh flat-leaf parsley
2 tablespoons extra virgin olive oil
1 1/2 tablespoons lemon zest
1 teaspoon finely chopped fresh oregano
1 teaspoon finely chopped fresh thyme
1 teaspoon finely chopped garlic
1 tablespoon olive oil
2 lb (900 g) skin-on, cut-up chicken (breasts, thighs, and/or legs)
salt and freshly ground black pepper
In a small bowl, combine the parsley, extra virgin olive oil, lemon zest, oregano, thyme, and garlic. Set the gremolata aside.
Preheat a charcoal or gas grill for medium heat. Rub the olive oil over both sides of the chicken. Season the chicken to taste with salt and pepper. Grill the chicken over medium heat until it's just cooked through (10 to 15 minutes for breasts, 15 to 20 minutes for legs/thighs). Transfer the chicken to a platter. Immediately spoon the gremolata over the chicken and serve.
***
Slow Cooker Baked Potatoes
baking potatoes (as many as your slow cooker can hold)
aluminum foil
Wash the potatoes and prick them with a fork in a few places. Wrap each potato with aluminum foil. Place the wrapped potatoes in your slow cooker. Cover the slow cooker and cook the potatoes on low for 8 to 10 hours.
I gussied these up in the picture above by dicing the cooked potatoes, leaving the skins on, then topping them with melted butter, salt, pepper, and freshly chopped chives.
***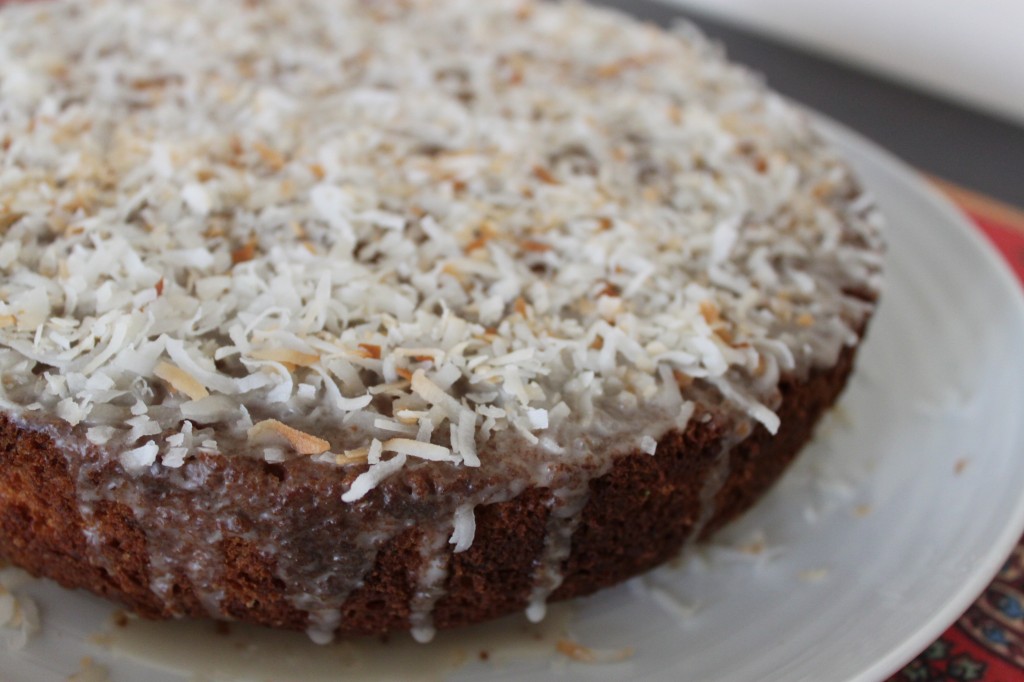 Key Lime Coconut Cake
adapted from Gourmet, March 2008
Serves 8
1 cup (90 g) sweetened flaked coconut
1/2 cup (110 g) unsalted butter, softened
1 1/4 cups (250 g) granulated sugar
1 tablespoon grated Key lime zest
2 extra-large eggs
1 3/4 cups (210 g) self-rising flour
3/4 cup (180 ml) whole milk
1/4 cup (60 ml) plus 1 tablespoon fresh Key lime juice, divided
1 1/4 cup (150 g) confectioner's (icing) sugar
1 tablespoon rum (optional)
Preheat the oven to 350°F (180°C) with the rack in the middle. Generously butter a springform cake pan and line the bottom with a round of parchment paper.
Toast the coconut in a small baking pan in the oven, stirring once or twice, for 8 to 12 minutes, until it's golden. Cool. Leave the oven on.
Beat together the butter, granulated sugar, and zest with an electric mixer until fluffy. Beat in the eggs 1 at a time. Stir together the flour and 1/2 cup coconut (reserve the remainder for the topping). Stir together the milk and 2 tablespoons lime juice. At low speed, mix the flour and milk mixtures into the egg mixture alternately in batches, beginning and ending with flour.
Spoon the batter into the prepared pan and smooth the top. Bake for 35 to 40 minutes, until golden and a wooden pick inserted into the center comes out clean. Cool the cake to warm, then turn out of the pan and remove the parchment paper.
Whisk together the confectioners sugar, the remaining 3 tablespoons lime juice, and rum (if using) and pour over the cake. Sprinkle with the remaining coconut.

Email this post

Print this post