Last month I crammed in as much Food Network as my schedule could handle. It was my last month with cable and I was afraid of missing something important (like Jersey Shore?). We ordered cable to keep me company during my maternity leave last summer, but after Anabelle turned 9 months old and we realized we watched it only about half an hour a day, we canceled it. One of the last shows I watched was Throw Down, a Bobby Flay vehicle that is amusing mostly for its ability to knock the usually cocky Mr. Flay down a notch or two. The episode featured Mr. Flay battling the Lee brothers in a competition to see who could make the best Country Captain. Even though the show was pretty predictable (Mr. Flay usually loses), I couldn't turn it off. I had to learn more about the silly-sounding dish.
Turns out that the dish's anthropology is as interesting as its name. It is Indian in flavor, originated in Philadelphia in the 1800s, and is most commonly eaten in the southern United States. Some believe that a British sea captain working in the spice trade introduced it to America via the port of Savannah, Georgia. Weeks later when I saw a Country Captain recipe highlighted as Recipe of the Day on Epicurious, I had to try it out. The list of ingredients is almost as odd as its name. But never judge a recipe by its title (or ingredients list) — the dish was delicious.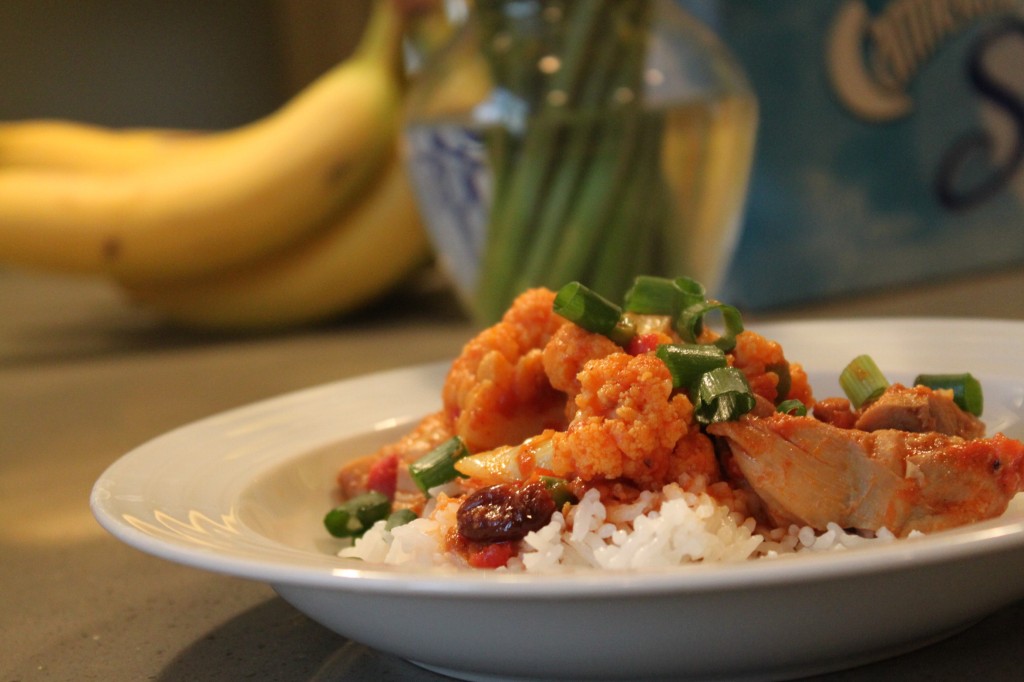 Country Captain with Cauliflower and Peas
adapted from Bon Appétit, March 2010
Serves 6
1 1/2 teaspoons coriander seeds
1 teaspoon fennel seeds
1 teaspoon cumin seeds
1/2 teaspoon whole black peppercorns
3 whole cloves
1/4 teaspoon cardamom seeds
1 1/2‑inch piece of cinnamon stick
1/2 teaspoon turmeric
1/4 teaspoon (or less) cayenne pepper
5 tablespoons peanut oil or vegetable oil, divided
1 small head of cauliflower, trimmed and cut into 1‑inch florets
coarse kosher salt
2 lb (900 g) skinless, boneless chicken thighs, trimmed and cut into 1- to 2‑inch pieces
1 bunch green onions, dark green and white parts chopped separately
1 tablespoon peeled and finely grated fresh ginger
2 garlic cloves, minced
1 1/2 cups (360 ml) chicken broth
1 2/3 cups (400 ml) crushed tomatoes with added puree
1/3 cup (50 g) dried cherries, finely chopped
1 tablespoon smooth peanut butter
10 oz (280 g) frozen petite peas (do not thaw)
1/3 cup (20 g) coconut shavings, lightly toasted (optional)
cooked rice, for serving
Place the coriander seeds, fennel seeds, cumin seeds, black peppercorns, cloves, cardamom seeds, and cinnamon stick in a small, dry skillet. Stir the spices over a medium heat for 5 to 6 minutes, until fragrant and slightly darker in color. Remove the spices from the heat and allow to cool. Finely grind the spices in spice mill or in a mortar and pestle. Transfer to a small bowl and add the turmeric and cayenne.
Heat 3 tablespoons of the oil in a heavy, large, deep pot over medium-high heat. Add the cauliflower florets. Sprinkle with coarse kosher salt and saute for 6 to 7 minutes, until beginning to soften and brown in spots. Transfer to a medium bowl.
Add the remaining 2 tablespoons of oil and half the chicken to the same pot. Sprinkle with coarse kosher salt and saute for about 6 minutes, until the chicken is light brown on all sides. Transfer the chicken to a large bowl. Repeat with the remaining chicken.
Add the white parts of the green onions, the finely grated ginger, and minced garlic to the same pot. Reduce the heat to medium and saute for about 1 minute, until fragrant. Add the ground spice mixture and stir for 15 seconds. Stir in the chicken broth and bring to a boil, scraping up any browned bits. Add the crushed tomatoes, reduce the heat to medium-low, cover, and simmer for 15 minutes. Stir in the dried cherries and peanut butter. Return the chicken and any accumulated juices to the pot. Cover and simmer for 10 minutes. Add the sauteed cauliflower to the pot. Cover and simmer for about 10 minutes longer, until the chicken is cooked through and the cauliflower is tender, adding more chicken broth if the mixture is dry. Season with coarse salt and freshly ground black pepper.
DO AHEAD: Can be made 1 day ahead. Cool slightly. Chill uncovered until cold, then cover and keep refrigerated. Rewarm over medium heat before continuing.
Add the frozen peas to the stew and simmer for about 5 minutes, until heated through. Ladle the stew over rice. Sprinkle each serving with the green onion tops and toasted coconut shavings (if using).

Email this post

Print this post