To say my two-year-old son is a light eater is a bit of an understatement — he's been known to go an entire weekend eating little more than a banana — but the night I made this risotto, he sat at the dinner table and practically chanted "more, more, more" in between mouthfuls and had a second helping.
As for the cake, I'd be hard pressed to think of a more perfect spring dessert than this. Light and lemony, it was still moist after three days — which is more than I can say for the overpriced "gourmet" cupcakes I bought in Dublin last week, which were so dry my children took only one bite and left the rest on the plate. My little boy might be a light eater, but he's certainly a discerning one.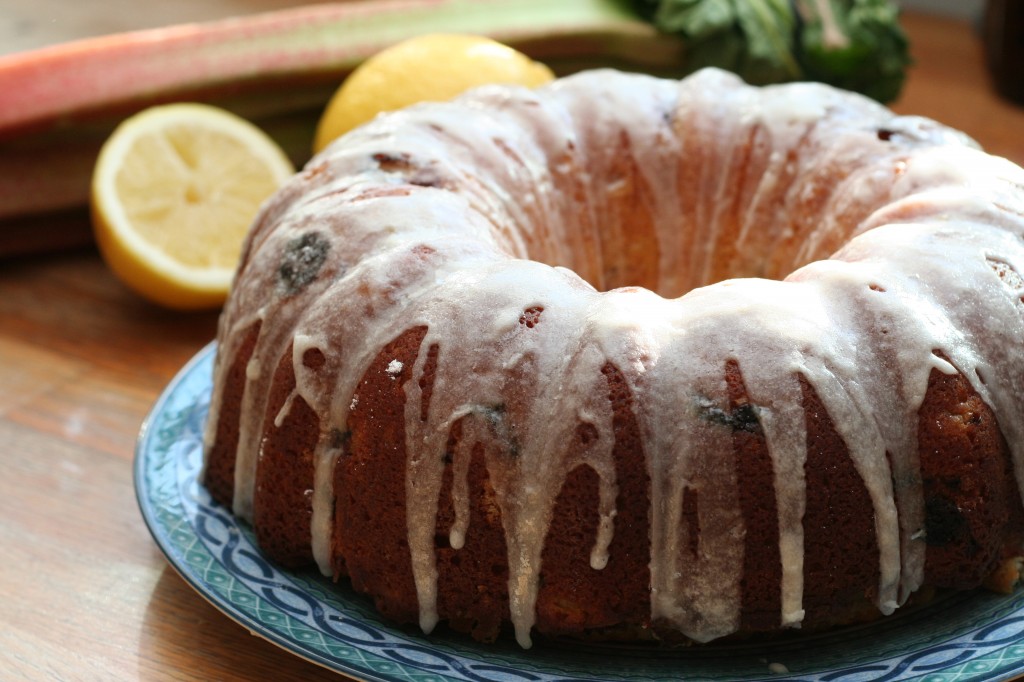 Lemon and Pea Risotto with Parmesan Roasted Asparagus
adapted from Nigella Bites by Nigella Lawson and Barefoot Contessa Family Style by Ina Garten
Serves 4
I love this lemon risotto on its own or as a springboard for adding in any number of other ingredients. Seafood is an obvious choice, and something like this roast fish wrapped in pancetta would be fantastic served alongside the risotto. I also like to serve it with grilled lemon chicken, or even leftovers from a slow roast chicken with vermouth.
These are the same flavors as in the gnocchi with peas, pancetta and lemon ricotta, so this is like a variation on that theme. If you wanted to make a little extra effort with the asparagus and aren't concerned about the meal being vegetarian, you could omit the final sprinkle of Parmesan and wrap each stalk in a bit of Parma ham instead at the start, or perhaps simply crumble some cooked bacon or pancetta over the top of the dish for some extra flavor.
for the lemon and pea risotto:
4 tablespoons (60 g) unsalted butter
2 shallots or 1 small onion, finely chopped
1 rib celery, finely chopped
1 1/2 cups (300 g) risotto rice
1 cup (240 ml) white wine or extra-dry vermouth
approximately 1 quart (1 liter) vegetable stock
1 cup (140 g) fresh or frozen peas
zest and juice of 1/2 lemon
4 tablespoons grated Parmesan, plus extra for garnish
salt and freshly ground black pepper
for the Parmesan roasted asparagus:
1 bunch fresh asparagus
1 tablespoon good olive oil
salt and freshly ground black pepper
1/2 cup (50 g) freshly grated Parmesan
Preheat the oven to 400°F (200°C).
Heat the butter, shallots and celery in a wide, deep saucepan and cook to soften, about 5 minutes. Mix in the rice, stirring to give it a good coating of the butter. Allow it to cook for 1 or 2 minutes, until the grains of rice start to turn translucent. Add the white wine or vermouth and let it bubble away for a few minutes. Meanwhile, heat the stock in another saucepan and keep it at simmering point.
Once all the wine or vermouth has been absorbed into the rice, pour a ladleful of the stock into the rice and keep stirring until the stock is absorbed. Then add another ladleful and stir again. Continue doing this until the rice is al dente. You may not need all the stock; equally, you may need to add a bit more hot water. Don't rush this process — allow the rice to fully absorb each ladleful of stock before adding the next one.
Meanwhile, once you've got the risotto going, snap off the woody ends of each asparagus stalk and discard. Lay the asparagus stalks in a single layer on a sheet pan and drizzle with olive oil, then sprinkle with salt and pepper. Roast for 15 to 20 minutes, until tender. Sprinkle with the Parmesan and return to the oven for 1 minute more, until the cheese has melted. Set aside and keep warm while you finish the risotto.
When you've added almost all the stock, test the rice — the risotto is ready when the rice is tender but still has a little bite. When the risotto is done, mix in the peas, lemon zest and juice and the grated Parmesan. Cook for a few more minutes, until the peas have thawed and are warmed through. Divide between 4 serving bowls or plates and top with the roasted asparagus stalks. Serve with more grated Parmesan if you wish, add seasoning to taste and serve immediately.
***
Lemon Buttermilk Rhubarb Bundt Cake
adapted from Rustic Fruit Desserts
by Cory Schreiber and Julie Richardson
Serves 10 to 12
Ina Garten recommends having all your baking ingredients at room temperature, so I've modified the recipe slightly to add that instruction here. You really do need to have the butter softened, but if you forget to take the buttermilk and eggs out of the fridge beforehand, don't worry about it.
for the cake:
2 1/2 cups (300 g) plus 2 tablespoons all-purpose flour, divided
2 teaspoons baking powder
1 teaspoon salt
1 cup (225 g) unsalted butter, at room temperature
1 3/4 cups (350 g) sugar
zest of 1 lemon
3 eggs, at room temperature
1/2 teaspoon lemon extract (optional)
3/4 cup (180 ml) buttermilk, at room temperature
1 lb (450 g) rhubarb, trimmed and sliced very thin
for the lemon glaze:
2 cups (240 g) sifted confectioners' sugar (icing sugar), plus more if needed
juice of 1 lemon
1 tablespoon (15 g) unsalted butter, at room temperature
Preheat the oven to 350°F (180°C) and grease a 10-cup Bundt pan.
To make the cake, sift together the 2 1/2 cups (300 g) flour, baking powder and salt. Set aside. In a mixing bowl and using a hand-held mixer or a stand mixer with the paddle attachment, cream together the butter, sugar and lemon zest at medium-high speed for 3 to 5 minutes, until light and fluffy. Add the eggs one at a time, scraping down the bowl after each addition. Stir in the lemon extract, if using. Stir in the flour mixture in 3 additions, alternating with the buttermilk in 2 additions, beginning and ending with the flour mixture and scraping down the bowl occasionally. The batter will be very thick.
Toss the rhubarb with the 2 tablespoons of flour. Fold half the rhubarb into the batter and pour batter into the prepared pan. Sprinkle the remaining rhubarb on top.
Bake for 30 minutes, then rotate the pan and bake for an additional 30 minutes, or until the top of cake is firm and the center springs back when lightly touched. Cool the cake in its pan on a wire rack for 30 minutes before inverting and removing from the pan.
Meanwhile, to make the lemon glaze, whisk together the confectioners' sugar, lemon juice and butter. The mixture should be thick. If it isn't, add an additional 1 or 2 tablespoons confectioners' sugar. Drizzle the glaze over the cake as soon as you remove the cake from the pan.
Covered with a cake cover or plastic wrap, the cake will keep at room temperature for 3 to 4 days.

Email this post

Print this post