About six years ago, my husband and I treated ourselves to a weekend away in Temple House, a fabulous Georgian mansion on a 1,000-acre estate in County Sligo on the site of a 13th-century Knights Templar castle. Dinner is served at one huge mahogany dining table, where everyone sits together. Ingredients are grown on the estate, sourced locally or from specialist producers, and where possible are organic. We had meant to leave on Sunday, but the meal we had there on the Saturday night was so good that we decided to stay an extra night and leave at the crack of dawn on Monday to make the three-hour drive back east in time for work just so we could have another dinner there.
At one of the dinners, they served a side dish of delicate, delicious leeks that I've been trying to recreate ever since. I've tried roasting them and braising them, but it was never the dish I remembered. But when I came across this recipe for buttered leeks, I had a feeling I might be on to something. Much like this sauteed cabbage or these sauteed carrots, the secret is in the recipe's simplicity — just leeks, butter, salt and pepper and a touch of cream at the end for a little luxury. I'm kicking myself for not thinking of it sooner.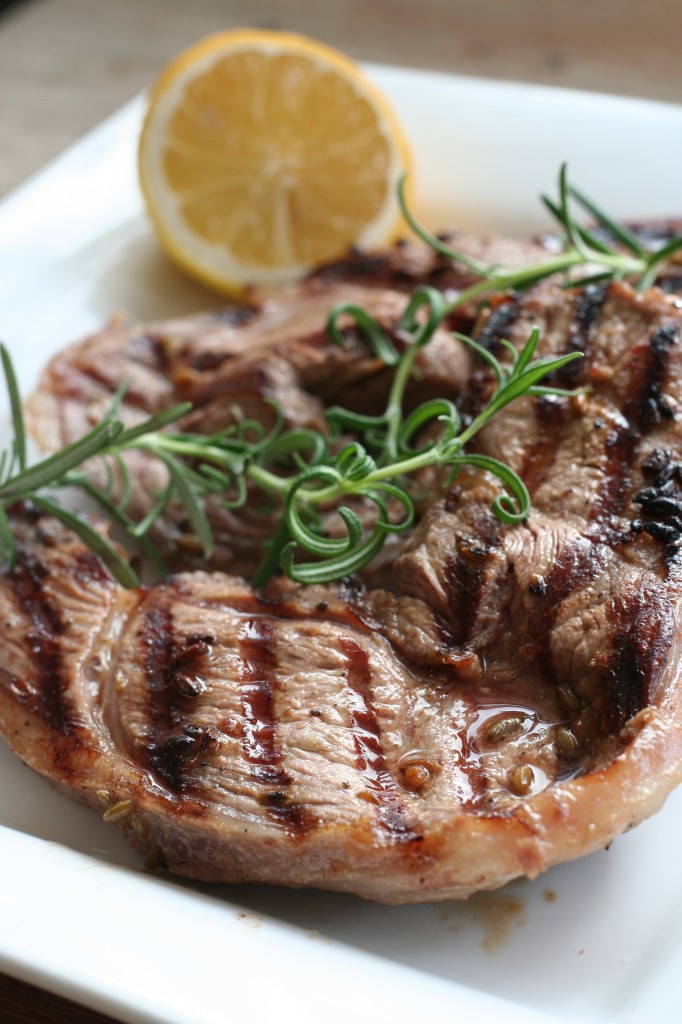 This menu is uncomplicated enough to make on a weekday — the lamb cooks in less than 10 minutes, you can saute the leeks while the lamb is resting, and mashed potatoes are never difficult — but is also impressive enough for company. These lemon roast potatoes would be perfect to serve with the lamb instead of the chive mash.
Marinated Lamb Fillets
adapted from Real Food
by Nigel Slater
Serves 4
Nigel Slater's recipe calls for lamb fillets, but the marinade works well with just about any cut, even an entire leg of lamb. The original recipe calls for 2 teaspoons dried herbes de Provence, but I like the combination of fennel and rosemary, inspired by Catherine Fulvio.
4 large cloves garlic, peeled and crushed
2 tablespoons lemon juice
4 tablespoons extra virgin olive oil
1 teaspoon fennel seeds
freshly ground black pepper
2 x 9 oz (250 g) lamb fillets
3 rosemary sprigs
Put the garlic, lemon juice, olive oil, fennel seeds and some freshly ground black pepper in a large measuring jug and whisk together well, until thick (or shake to combine in a screw-top jar). Place the lamb fillets in a casserole dish and tuck the rosemary sprigs around the lamb. Pour the marinade over the lamb, over with cling film and leave in a cool place for at least 1 hour, but preferably overnight.
To cook the lamb, get a ridged grill pan really hot (or if you don't have one, use the oven broiler) and open the windows or turn your extractor fan on, as this will smoke a lot. Also, you might have to cook the lamb in 2 batches, depending on the size of your pan. Place the lamb on the grill pan and press it down onto the pan with a palette knife or the back of a spatula. Leave for 3 or 4 minutes, until the underneath is golden and crusted. Turn the lamb over and continue cooking for a further 3 to 4 minutes. The inside should still be pink. Remove to a plate or chopping board, cover with foil and allow to rest for 10 minutes, then cut into slices and serve.
***
Chive Mash
2 lb (900 g) floury potatoes, such as Kerr's Pink, Maris Piper or Yukon Gold
1/2 cup (120 ml) milk
4 oz (110 g) butter
1/2 bunch chives, finely chopped
salt and freshly ground black pepper
Peel the potatoes and slice them 1/4 inch thick. Put them in a large pot of generously salted water and bring to the boil. Simmer just until the potatoes are tender, then drain. Return the potatoes to the pot off the heat, cover with a clean tea towel and allow to sit for 5 minutes (this helps to dry out the potatoes, resulting in a fluffier mash). Meanwhile, while the potatoes are cooking, place the milk and butter in a saucepan over a medium heat, until the butter has melted. Mash the potatoes, then pour in the hot milk and butter mixture and the chopped chives and beat with a wooden spoon until the mash is fluffy and light. Taste for seasoning and serve piping hot.
***
Buttered Leeks
adapted from Greatfood.ie
Serves 4 to 6
4 tablespoons (60 g) butter
5 large leeks, white and pale green parts only, washed very well and sliced thinly on the diagonal
salt and freshly ground black pepper
2 tablespoons cream
Melt the butter in a large pan. Add the leeks, stir and season generously. Cover and cook over a gentle heat for about 15 minutes, stirring once or twice, until the leeks are tender. Add the cream just before serving.

Email this post

Print this post