Contrary to popular (American) belief, the condiment of choice in much of Mexico isn't salsa, but jalapenos en escabeche, which is essentially jalapenos pickled with carrots and onions. Though hesitant to abandon salsa altogether during my summer in Mexico, I grew to love the slightly tart and totally tangy bowl of escabeche vegetables served alongside every meal. A splash of the vinegar-based sauce livens up just about any cut of meat and can be used much like the sport peppers in vinegar you find on tables throughout the southern United States. The crunchy vegetables also make a great addition to dishes in need of a little texture or heat. Tonight's Rick Bayless chicken dish draws on this classic Mexican combination, with good results. I paired the dish with white rice for a delicious dinner in less than an hour.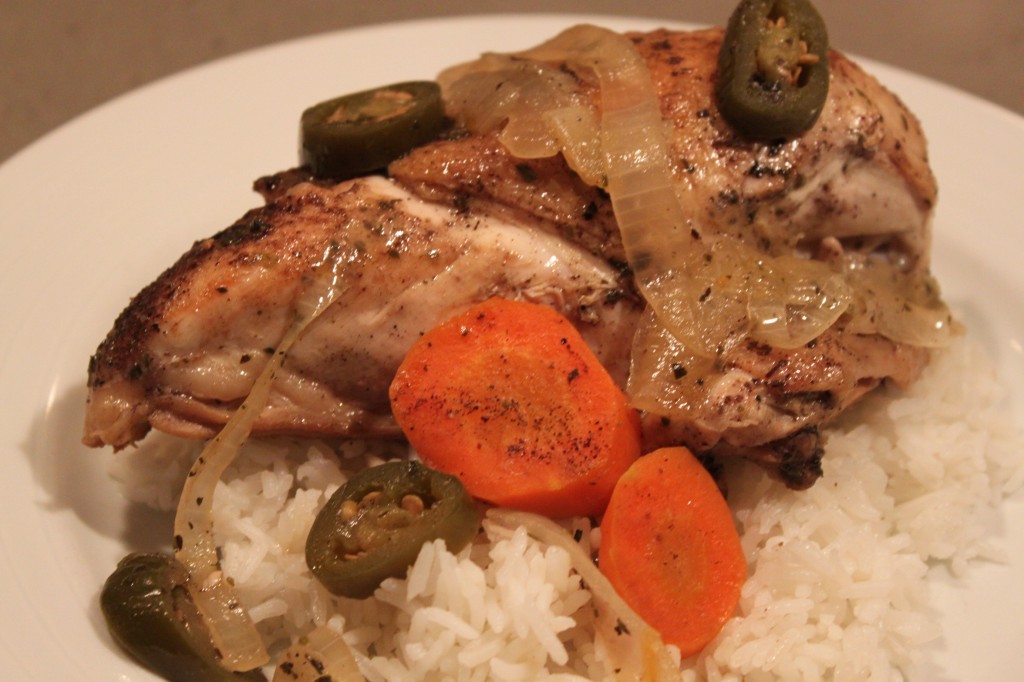 Chicken in Tangy Escabeche of Caramelized Onions, Carrots and Jalapenos
adapted from Mexican Everyday by Rick Bayless
Serves 4 to 6
1 teaspoon ground black pepper
1/2 teaspoon ground allspice
2 teaspoons dried oregano, preferably Mexican
1 teaspoon salt
2 lb (900 g) chicken breast halves, bones and skin intact
2 tablespoons vegetable or olive oil
1 large white onion, cut into 1/4‑inch slices
2 large carrots, peeled and sliced 1/4‑inch thick on a diagonal
4 garlic cloves, peeled and halved
1/4 cup (60 ml) vinegar (apple cider vinegar is traditional)
2 to 4 canned pickled jalapenos, stemmed, seeded and thinly sliced [Note: I used pre-sliced pickled jalapenos]
1 cup (240 ml) chicken broth
In a small bowl, combine the black pepper, allspice, oregano and salt. Sprinkle half of this mixture over the chicken breasts.
Heat the oil in a very large (12-inch) skillet over medium heat. Lay in the chicken, skin side down, and cook for 3 to 4 minutes on each side, turning once, until richly browned. Remove the chicken to a plate, leaving behind as much oil as possible.
Add the sliced onion and carrots to the skillet and cook, stirring regularly, until the onion is browned, abut 7 minutes. Add the garlic and stir for about 1 minute, then add the remaining seasoning mixture, the vinegar, jalapenos and broth.
Nestle the chicken pieces skin side up in the onion mixture, cover the skillet (a cookie sheet works if your skillet doesn't have a lid) and simmer gently over a medium-low heat until the chicken is just cooked through, about 15 minutes. Taste the broth and season with additional salt if you think it's needed. Transfer a piece of chicken to each dinner plate, spooning a generous portion of the juicy vegetable mixture over the top.

Email this post

Print this post