Last week our beloved 13-year-old cat, Miso, was hit and killed by a car. The shock of his death quickly wore off, replaced by a constant tearfulness and an intense longing to pet him just one more time. Reuben and I grew up with Miso, moving him from student apartments in Madison to slightly nicer apartments in Chicago and finally to our home in Milwaukee. He was as loyal and wise as a dog and as stately as any person I have met. It's still hard to pull into our driveway and not expect to see him in the window or waiting on the porch for me. After a week of grieving, I'm now able to comfort myself with the understanding that he lived a good and full life. Chocolate cake helped too. I know, I know, we shouldn't eat out of emotion. But in my defense, the deliberate measuring, mixing, baking, and frosting of the cake were just as therapeutic as sitting down and pondering Miso's life as I polished off piece after piece of the best cake I've ever tasted. Comfort food is, in fact, comforting.
Fettuccine Alfredo with Shrimp and Peas
Serves 4
1 lb (450 g) fettuccine or linguine
3 tablespoons butter, divided
1 lb (450 g) raw shrimp
salt and freshly ground black pepper
1 1/2 cups (360 ml) half-and-half (or 3/4 cup (180 ml) milk + 3/4 cup (180 ml) cream)
1 cup (150 g) grated fresh Parmesan
1 cup (140 g) fresh or frozen peas, cooked
Cook the pasta in boiling, salted water according to package directions. While the pasta cooks, melt 1 tablespoon of the butter in a small saute pan. Add the shrimp to the melted butter and cook over a medium heat for 4 to 5 minutes, until just cooked through. Season with salt and pepper to taste and set aside.
Melt the remaining 2 tablespoons of butter in a large skillet over a medium heat. Add the half-and-half, cheese, and more salt and pepper, to taste. Cook for 2 to 3 minutes, stirring constantly. Do not boil. Reduce the heat and add the cooked pasta, shrimp, and peas, tossing gently to coat. Serve immediately in warm bowls.
***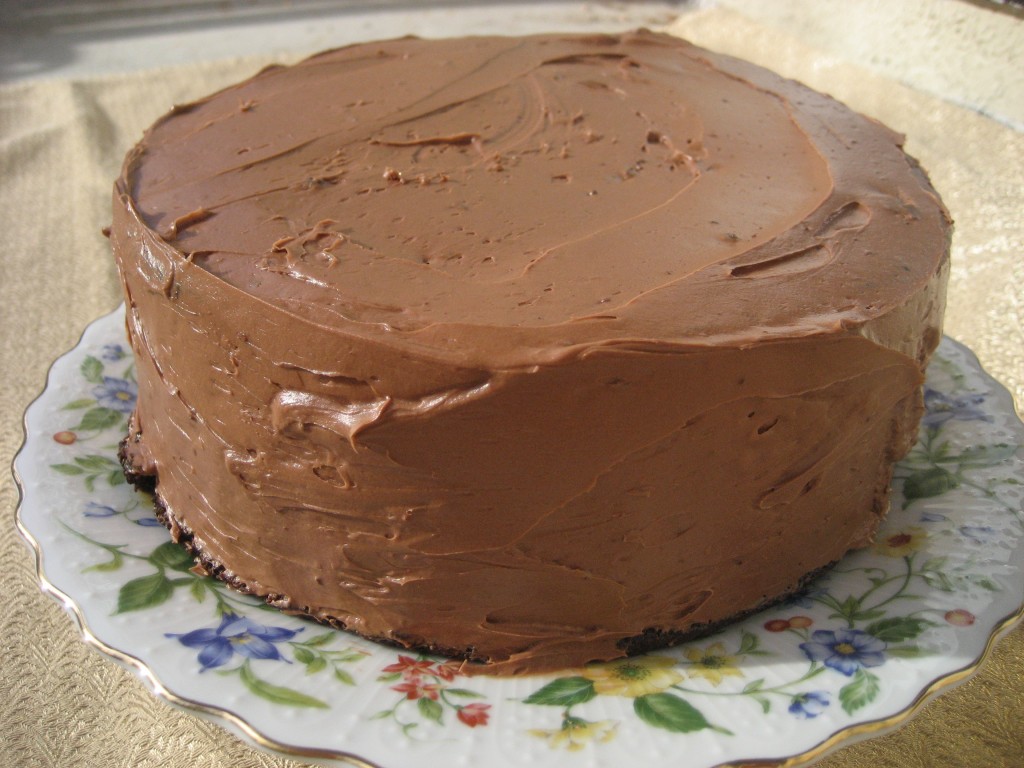 Beatty's Chocolate Cake
adapted from Barefoot Contessa at Home
by Ina Garten
Serves 8
butter, for greasing the pans
1 3/4 cups (210 g) all-purpose flour, plus more for pans
2 cups (400 g) sugar
3/4 cups (100 g) good-quality cocoa powder
2 teaspoons baking soda
1 teaspoon baking powder
1 teaspoon kosher salt
1 cup (240 ml) buttermilk, shaken
1/2 cup (120 ml) vegetable oil
2 extra-large eggs, at room temperature
1 teaspoon pure vanilla extract
1 cup (240 ml) freshly brewed hot coffee
chocolate buttercream (recipe follows)
Preheat the oven to 350°F (180°C). Butter 2 x 8‑inch round cake pans. Line with parchment paper, then butter and flour the pans.
Sift the flour, sugar, cocoa, baking soda, baking powder, and salt into the bowl of an electric mixer fitted with a paddle attachment and mix on low speed until combined. In another bowl, combine the buttermilk, oil, eggs, and vanilla. With the mixer on low speed, slowly add the wet ingredients to the dry. With the mixer still on low, add the coffee and stir just to combine, scraping the bottom of the bowl with a rubber spatula. Pour the batter into the prepared pans and bake for 35 to 40 minutes, until a cake tester comes out clean. Cool in the pans for 30 minutes, then turn them out onto a cooling rack and cool completely.
Place 1 layer, flat side up, on a flat plate or cake pedestal. With a knife or offset spatula, spread the top with frosting. Place the second layer on top, rounded side up, and spread the frosting evenly on the top and sides of the cake.
Chocolate Buttercream
6 oz (170 g) good-quality semisweet chocolate
1/2 lb (2 sticks/225 g) unsalted butter, at room temperature
1 extra-large egg yolk, at room temperature
1 teaspoon pure vanilla extract
1 1/4 cups (150 g) sifted confectioners' sugar
1 tablespoon instant coffee powder
Chop the chocolate and place it in a heat-proof bowl set over a pan of simmering water. Stir until just melted and set aside until cooled to room temperature.
In the bowl of an electric mixer fitted with a paddle attachment, beat the butter on medium-high speed until light yellow and fluffy, about 3 minutes. Add the egg yolk and vanilla and continue beating for 3 minutes. Turn the mixer to low, gradually add the confectioners' sugar, then beat at medium speed, scraping down the bowl as necessary, until smooth and creamy. Dissolve the coffee powder in 2 teaspoons of the hottest tap water. On low speed, add the chocolate and coffee to the butter mixture and mix until blended. Don't whip! Spread immediately on the cooled cake.

Email this post

Print this post