In all honesty, I could never be a vegetarian again simply because I like bacon too much (and sausages and chorizo rank pretty highly too). After 10 years of living abroad, I've stopped craving most of the foods I used to miss when I first moved to Ireland, but I've never stopped missing American-style bacon, the kind that gets crispy and will easily crumble once cooked. Irish bacon (or rashers) is more like what I grew up calling Canadian bacon, thick cut and something you have to eat with a knife and fork, and just isn't the same at all. But a few weeks ago, I noticed that my local grocery store had started carrying pancetta, so I gave that a try. Who would have guessed that expensive imported Italian pancetta is such a good match to the Oscar Mayer stuff I've been hankering after all these years? I'm going to have to try hard not to buy some every week now to make up for lost time. This salad was a good place to start, and I happily tripled the amount of bacon called for (granted, the original recipe only calls for 1 slice).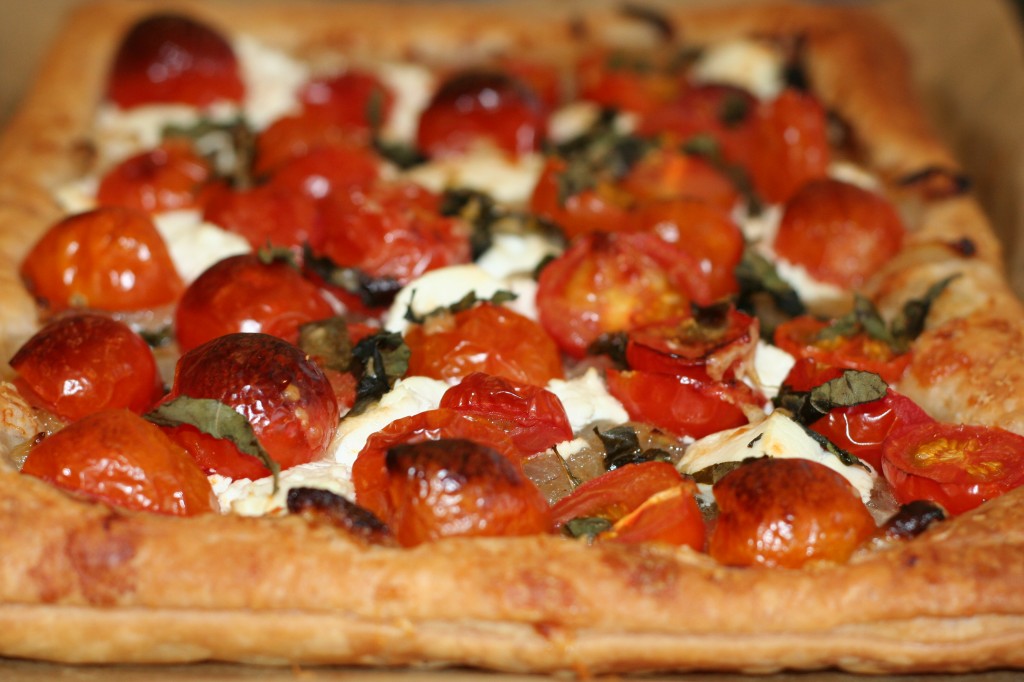 Still looking for ways to use up tomatoes? Try Chicken Cacciatore, Ravioli and Tomato Salad, Oven-roasted Ratatouille, Spaghetti with Fresh Tomato Sauce or Spaghetti with Roast Cherry Tomatoes, Chili and Basil.
Tomato and Goat's Cheese Tart
adapted from Barefoot Contessa Back to Basics by Ina Garten
Makes 2 large tarts or 4 individual tarts
This recipe is open to endless variations. I've modified the original to use cherry tomatoes, but you could just as easily use 2 or 3 large tomatoes, cut into 1/4‑inch-thick slices. A mix of yellow and red cherry tomatoes would look especially nice. The original also calls for garlic and herb goat's cheese, though I used a plain soft goat's cheese (as opposed to a log) dotted around the tart. If you aren't a fan of goat's cheese, you could try this with garlic-and-herb cream cheese or even mascarpone.
You could also use this recipe as a base to make a new potato and goat's cheese tart: Omit the tomatoes and instead thinly slice 10 oz (280 g) of baby new potatoes. Boil the potato slices for about 5 minutes, until just tender, then neatly layer them over the Parmesan and onions on the puff pastry so that they slightly overlap, then dot the goat's cheese over the potatoes. Use fresh chopped chives, parsley and tarragon instead of the thyme and basil and cook at 400°F (200°C) for 18 to 20 minutes.
1 package (17.3 oz/2 sheets) ready-rolled puff pastry, defrosted
3 tablespoons good-quality olive oil
2 large onions, thinly sliced yellow onions
3 large garlic cloves, cut into thin slivers
1/2 teaspoon salt
1/4 teaspoon freshly ground black pepper
3 tablespoons dry white wine
2 teaspoons minced fresh thyme leaves (or 1/4 tsp dried)
4 tablespoons freshly grated Parmesan, plus 2 oz (50 g) shaved with a vegetable peeler
4 oz (100 g) goat's cheese
1 lb (450 g) cherry tomatoes, halved
3 tablespoons julienned basil leaves
Preheat the oven to 425°F (220°C).
Gently unroll the sheets of puff pastry and place the pastry rectangles on 2 baking sheets lined with parchment paper and refrigerate until ready to use. (Alternatively, you could make 4 individual tarts by cutting 4 circles out of the 2 sheets of puff pastry, using a 6‑inch saucer or other round object as a guide, though you might have to roll out the puff pastry a little in order to get 2 good-sized circles from each pastry sheet. Or just cut each ready-rolled rectangle in half. If you wanted to serve this as a light first course, you could cut each rectangle into quarters, and get 8 servings.)
Heat the olive oil in a large skillet over a medium to low heat and add the onions and garlic. Sauté for 15 to 20 minutes, stirring frequently, until the onions are limp and there is almost no moisture remaining in the skillet (this is important, because you don't want the mixture to be too wet and make the pastry base soggy). Add the salt, pepper, wine and thyme and continue to cook for another 10 minutes, until the onions are lightly browned and the wine has mostly evaporated. Remove from the heat and set aside.
Using a sharp paring knife, score a 1/4‑inch-wide border around each pastry rectangle. Prick the pastry inside the score lines with the tines of a fork and sprinkle the grated Parmesan on each rectangle, staying inside the scored border.
Place half of the onion mixture on each rectangle, again staying within the scored edge. (Don't be tempted to overload the pastry base with too much topping, or again, it will go soggy, especially if you're making 2 large tarts.) Crumble 2 oz (50 g) of goat's cheese on top of the onions. Scatter the halved cherry tomatoes evenly over the tart. Sprinkle with basil, salt and pepper. Finally, scatter the Parmesan shards on each tart.
Bake for 20 to 25 minutes, until the pastry is golden brown. The bottom baking sheet may need an extra few minutes in the oven. Serve hot or warm.
***
Potato, Spinach and Red Pepper Salad with Warm Bacon Vinaigrette
adapted from Bon Appétit, August 1999
Serves 4
1 lb (450 g) new potatoes, halved or quartered
1 red pepper
3 bacon or pancetta slices, chopped
4 tablespoons red wine vinegar
2 tablespoons extra-virgin olive oil
1 garlic clove, minced
1 cup (2 stalks) thinly sliced celery
2 cups (packed) baby spinach leaves (about 90 g)
Steam or boil the potatoes just until tender, about 5 to 7 minutes. Drain and transfer to a large bowl.
Roast the pepper over a flame or in the broiler until blackened on all sides. (Alternatively, line a baking tray with foil, cut the pepper in half and deseed it, then place the two halves, cut side down, on the foil and roast at 400°F (200°C) for about 30 minutes, or until the skin starts to blacken.) Enclose in a paper bag or wrap up in the tin foil you roasted it on and allow to stand for 10 minutes. Peel, seed and chop the pepper, then transfer to the bowl with the potatoes.
Sauté the chopped bacon in a small skillet over a medium heat until crisp, about 3 minutes, until cooked through. Using a slotted spoon, transfer the bacon to a paper towel and drain.
Whisk the vinegar, oil and garlic in small saucepan. Stir over a low heat just until warm, about 1 minute. Stir in the bacon.
Add the warm vinaigrette to the potato mixture. Mix in the celery and spinach and toss together well so that the dressing coats everything. Season to taste with salt and pepper and serve.

Email this post

Print this post