Ask my husband, ask my mom, ask my coworkers: I am not a morning person. Despite my middle age, I still have to set an alarm clock every day, even weekends, or risk sleeping until lunchtime. Most days the only reason I want to drag myself out of bed is the promise of strong coffee and kid cuddles. Not surprisingly, I usually skip breakfast. With that being said, I adore this recipe and wanted to share it. It is one of my tried and true, never fails me dishes. If you spend the night at my house, this is one of three things I will serve you when you wake up. And if you are questioning why a dinner blog might post a waffle recipe, consider it your next "breakfast for dinner" meal idea.
I was skeptical of 100% whole wheat waffles but these are incredibly light and almost crisp. I promise! Serve with fresh raspberries, maple syrup, whipped cream, and raspberry puree or your favorite waffle toppings.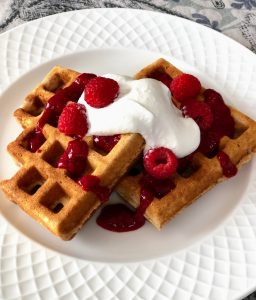 Whole Wheat Belgian Waffles
from King Arthur Flour
This recipe makes about 4 large waffles. I always double it, cook up the extra waffles then freeze them wrapped in wax paper inside freezer bags. Homemade freezer waffles! Much healthier and cheaper than Eggos.
1 1/2 cups (170g) King Arthur White Whole Wheat Flour
2 teaspoons baking powder
1/2 teaspoon salt
2 tablespoons (25g) granulated sugar
1 large egg
1 1/2 cups (340g) lukewarm milk
5 tablespoons (71g) melted butter or 1/3 cup (67g) vegetable oil
Preheat your iron while you make the waffle batter. Whisk together the flour, baking powder, salt, and sugar.
In a separate bowl, whisk together the egg, milk, and butter or oil.
Mix together the wet and dry ingredients, stirring just until combined. The batter will be a bit lumpy. Cook the waffles as directed in the instructions that came with your waffle iron.
Raspberry Puree
Makes about 1 1/2 cups
1 pint fresh raspberries or 10 ounces frozen raspberries defrosted
1/4 — 1/2 cup sugar, honey, or maple syrup (to taste)
Blend ingredients in blender or food processor until smooth.

Email this post

Print this post
{ Comments on this entry are closed }